Embellish your grub with some sour drizzle that'll add depth into your deep dive. And, plunge.
Bright pink fragrant scented Japanese rose petals infused in malt vinegar, the perfect sour accompaniment to your dressing; Rose Petal Vinegar.
This dish will topple your belief that vegan food isn't simple to make.
Make this:
When you've got an excess of Japanese rose petals you've foraged locally and fancy making drizzle a little sour
When you're wanting a dressing that'll add vibrancy and colour to your salads
When you're looking to make pink coloured condiments including mayonnaise
Rose Petal Vinegar was inspired when foraging Japanese rose petals in dense thickets on coastal Cornwall; large tomato like rose hips with burgeoning rose petals.  Native to East Asia, Japanese rose are invasive to Europe and America and easily found in local parks and roadsides.
Rose petals are edible and make a great accompaniment and flavour to jams, spirits, syrups and teas.
Rose Petal Vinegar is vegan and paleo.
Love.
Edward x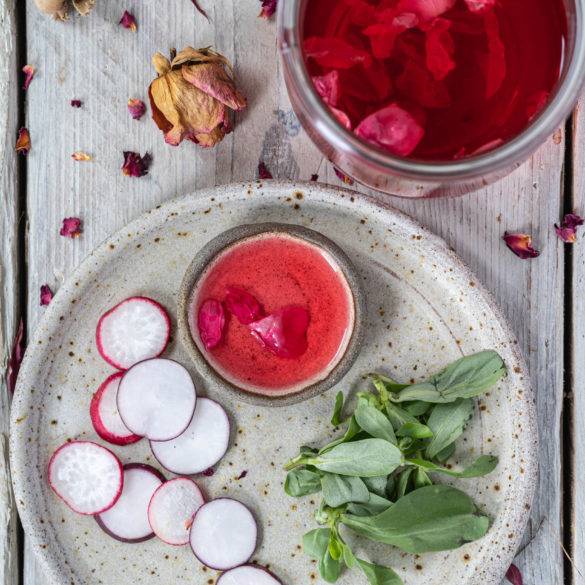 Ingredients
500ml malt vinegar

10g dried Japanese rose petals (about 20 roses)
Instructions
Simmer the malt vinegar in a saucepan. Do not boil.
Pour the vinegar into a sterilised jar. Stir in the rose petals.
Seal and leave the jar in a dark cupboard. Set aside.
Strain and use as necessary.