Gorge on something soft and spongy and allow your senses little by little to gasp for hot air.
Piquant chilli-flavoured Kimchi Pancakes with seasonal chopped sweet spring onions served with a rice vinegar toasted sesame dipping sauce.
Make this:
When you've had a heavy night and on the wagon in the morning and want a fulfilling brekkie to awaken those senses
When you're yearning for a Far Eastern brekkie and a full English won't cut it
When it's the weekend and only a brunch that's substantial and satisfying will cut the grade
Blanched almonds, I purchase from a nifty Asian outlet in Hayes.  It has an online presence too which can be found here – I love it because it is reasonably priced and tends to be good quality stuff which I use.
Tag me on @ethivegan to show me what you've made and let me know you're happy for me to share.
Love.
Edward x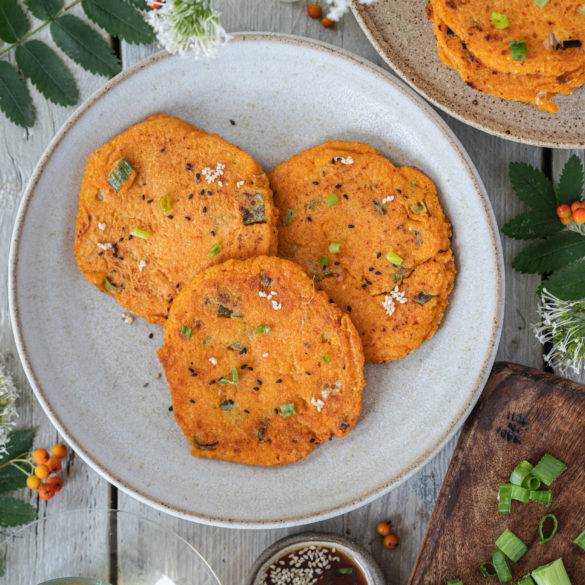 Ingredients
For the pancakes

200g kimchi

120ml filtered water/kimchi water

30g almonds

150g millet

1tsp salt

50g rice flour

1 bunch spring onion, chopped

Extra virgin olive oil for frying

For the dipping sauce

2tsb rice vinegar

2tsb soy sauce

2tsb sesame oil

1tsp raw unrefined cane sugar

1tsp sesame seeds, toasted
Instructions
In a high-speed blender grind the millet, almond and salt. Add the kimchi and filtered water and liquidise.
Transfer the kimchi mixture to a large mixing bowl.  Whisk in the flour until the batter has a smooth consistency.  Cover with cling film and leave the batter over. Season to taste further if necessary.
The following day, add chopped spring onion to the batter.
Toast the sesame seeds and set to one side.
To make the dipping sauce, whisk together the rice vinegar, soy sauce, sesame oil and roasted sesame seeds. Set to one side.
Heat the oil over a medium heat in a frying pan swirling the oil so that it coats the bottom and sides.
Pour the batter into the pan, spreading to form a thin layer. Cook the pancakes until golden brown on each side. This should take about 3 to 4 minutes each side.
Serve the Kimchi pancakes with the dipping sauce.