Crisp buttered bread drenched in a creamy coconut almond saffron custard with cinnamon and nutmeg; Bread and Butter Pudding.
Buckle up buttercup. And, gorge.
This dish will obliterate any belief that vegan food can't be simple to rustle up with a few choice ingredients.
Make this:
When you're in the mood from comfort eating. You've had a challenging week. And, a simple wholesome dish will do the trick
When you've got stale bread. You don't really wanna be throwing in the bin. Indeed, a lush bread and butter pudding will hoover up leftovers
When you've got a Sunday Roast. You're scratching your head as to what to dish up. And, this would do perfectly
Bread and Butter Pudding was inspired by nostalgic memories of school lunches. I'd love simplicity of this dish.  And, served with fresh custard brings back fond memories. I love this dish because of its lushness, richness and sumptuousness and yet it reminds me of my youth too.
This Pudding is vegan, and British cuisine.
Where I purchase ingredients from
Blanched almonds, I purchase from a nifty Asian outlet in Hayes.  It has an online presence too which can be found here – I love it because it is reasonably priced and tends to be good quality stuff which I use.
What equipment to use
For this recipe, I suggest:
High-speed blender
Stove
Oven
 What to do next
Tag me on @ethiveganquantum on Instagram to show me what you've made and let me know you're happy for me to share.
My recipes are featured in vegan speciality publications: Nourished, Vegan Life, Plant Based and Vegan, Food and Living.
Order my first self-published book, "Essence: The Beginner's Guide to Veganism" part of the three-part Circle of Food series. My second book "Presence: The Ascending Vegan" – which explores how to maintain a vegan practice is out in 2027 – I have compiled all the chapters including recipes.
Going strong since 2013.
Love.
Edward x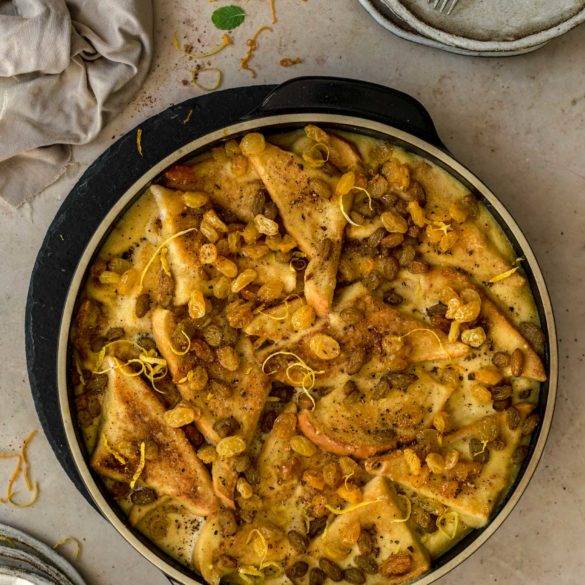 Ingredients
75g sultanas, dried

½ orange, juice

75g raisins, dried

100ml filtered water

400g bread, stale

75g vegan butter

400ml coconut milk

100g almonds, blanched

100g millet

35g flaxseeds

Few saffron strands

350ml filtered water

150g unrefined cane sugar

1tbs kuzu plus 1tbs filtered water

Zest of half a lemon

Freshly ground nutmeg

Small cinnamon stick, ground
Instructions
In a small bowl leave sultanas to soak in orange juice for about 30 minutes. Similarly, soak the raisins in water too. Set to one side.
Preheat oven to gas mark 180 degrees Celsius or if convention oven to 160 degrees Celsius.
Toast the bread on both sides under a grill. Spread butter on one side. Line in a grease proof dish. Set to one side.
Slice the bread and butter. Place the bread in a greased proof oven dish
In a high-speed blender, blitz together the almonds, millet, water, saffron and sugar. Pour into a saucepan.
Dissolve the kuzu in a tablespoon water. Pour into the almond milk with the coconut milk. Use a hand-held whisk to stir the custard around. Bring to the boil. Reduce heat and switch off the custard.
Stir in the vanilla extract, lemon zest, nutmeg and cinnamon.
Sprinkle half the sultanas and raisins over the bread. Pour the orange juice into the custard.
Drizzle the custard over the bread and sprinkle the remaining sultanas and raisins.
Cover the bread pudding with aluminium foil. Bake in the oven for about 25 minutes.
Remove the foil and return to the oven for a further 10 minutes. Remove when the bread starts to turns a lovely golden colour.
Sprinkle warm.