Galvanise your rocket into action and ride to the moon.
Pert lentils pan cooked with earthy cumin tender rice topped with sweet caramelised onions, bitter parsley and spring onions.
This dish will obliterate any belief that vegan food can't be easily tossed together.
Make this:
When its winter and you feel like a hearty meal with alleviate all those hunger pangs
When you've had a really tough day and a comfort dish that's nourishing but super yummy will have you relaxing in front of the sofa in no time
When you've just had a long hike and a dish that will satiate and hit all the high-notes is a prerequisite
Mujaddara (Lentils, Rice and Caramelised Onions) was inspired by a Middle-Eastern friend who'd rustled this up for me and amazed with the ease with which dish was made, created my own.
Mujaddara is a frugal dish only requiring basis ingredients of lentils, rice and caramelised onions. I use simple long grain rice and brown lentils.
Mujaddara is vegan and Middle-Eastern cuisine.
Love.
Edward x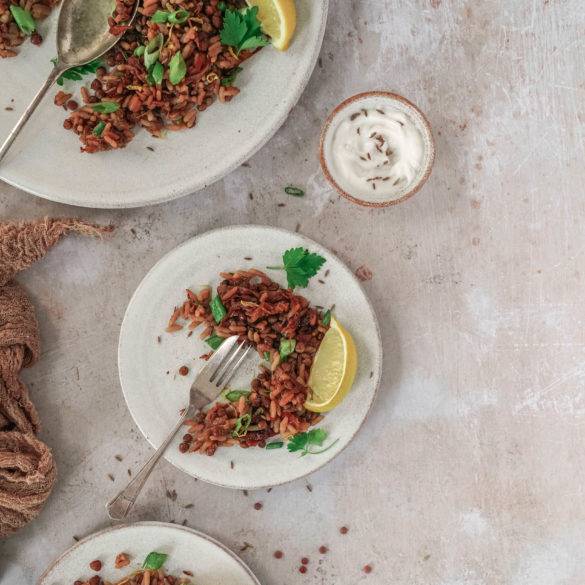 Ingredients
8 medium onions, sliced

6tbs olive oil

2tsp cumin powder

½ tsp cayenne pepper

250g brown lentils

250g long rice

1.5litre filtered water

Season to taste

Few sprigs of parsley

Spring onion

Lemon
Instructions
In a large non-stick saucepan. Toss in the remaining oil. Add in the cumin and cayenne pepper and a tablespoon of water too. Continue cooking for about a minute until you form a paste.
Add the rice to the mixture so that the granules are coated. Then add the remaining water and lentils and bring to a boil. Turn the heat down and simmer for about 30 minutes. The water should almost evaporate and the rice tender. Season to taste with salt and black pepper.
Switch off the heat, place the lid on top and allow the mixture to steam for a further 10 minutes.
Top tip – I usually use a clean dishcloth, which I place under and around the lid. This helps give the rice the texture that remaining fluffy texture that I love.
In a separate large non-stick saucepan with lid place 2tbs oil and gently heat over a medium heat. Add the onions and salt. Cover with lid and allow to steam. Turn occasionally as they turn translucent. Reduce to a low heat and then allow to caramelise to a dark brown colour. Return lid and stir occasionally. Don't worry about burning – as this simply adds to the caramelised flavour. This process should take about 15 to 20 minutes.    Set to one side.
Garnish with a few sprigs of parsley, spring onion, lemon and serve with yoghurt and