Thai Pomelo Salad; fleshy pomelo with peppers, peanuts, cucumber, fresh mint and coriander, fiery chili and citrus lime.
Languish in pure ecstasy. And, lick your lips.
This dish will topple your belief that vegan food can't be super nourishing.
Make this:
When you've got a soiree that's the bees knees and knock out your guests with something moist and fabulous
When you fancy a little self-indulgence as you watch your favourite game on the tele
When you've just had a nice soak in the bath. A savoury dip that'll go with your bolly will have you lounging even further
Thai Pomelo Salad was inspired when taking a pit stop over at Bangkok Airport and being served this nourishing salad as I was gazing at the passers-by all rushing to catch their flights. And, just languishing in the taste of this scrumptious dish.
Thai Pomelo salad I love because of the succulent sweet taste of pomelo and the fresh herbs – which give a freshness to this dish combined with lime juice. It just makes this dish refreshing. Grapefruit can be substituted if pomelo is unavailable at your local supermarket. This dish is really simple to put together.
Thai Pomelo Salad is raw, vegan and paleo.
What equipment to use
For this recipe, I don't recommend any particular equipment.
What to do next
Tag me on @ethiveganquantum on Instagram to show me what you've made and let me know you're happy for me to share.
My recipes are featured in vegan speciality publications: Nourished, Vegan Life, Plant Based and Vegan, Food and Living.
Order my first self-published book, "Essence: The Beginner's Guide to Veganism" part of the three-part Circle of Food series. My second book "Presence: The Ascending Vegan" – which explores how to maintain a vegan practice is out in 2027 – I have compiled all the chapters including recipes.
Going strong since 2013.
Love.
Edward x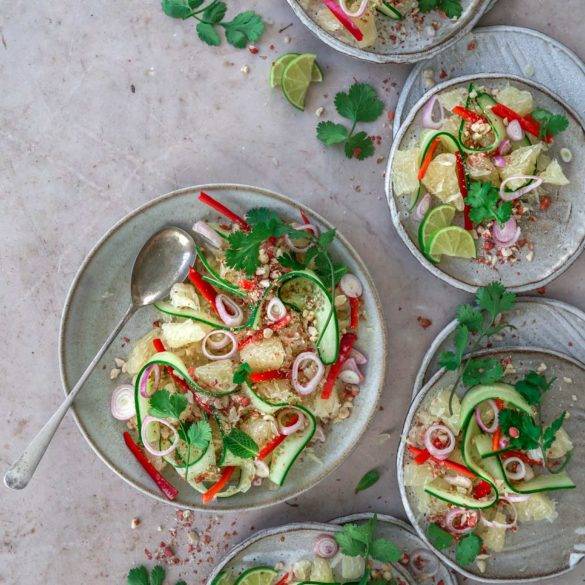 Ingredients
150g shallots, chopped

1 red pepper, sliced

1 pomelo

1 red chilli, sliced

150g peanuts, chopped

small sprig of fresh mint, chopped

small sprig fresh coriander, chopped

1/2 cucumber, sliced

Dressing

3 tbs olive oil

1 lime, freshly-squeezed
Instructions
Take the skin and membrane off the pomelo. Use your hands to break into chunks. Place the pomelo into a large bowl.
Combine the shallots, peanuts, mint, coriander, pepper, chilli and cucumber in a large serving bowl.
Just before serving add the dressing to the pomelo mixture.