Mustard Peanut Butter Crumble is a savoury.  Yet it has this nuttiness and texture that I love.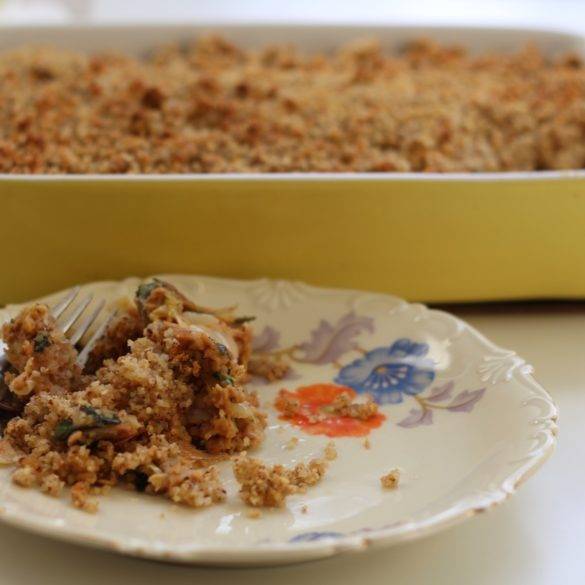 Ingredients
50g chickpeas
250ml water
65g semolina
125g-bulgur wheat
1tsp salt
Pepper to taste
3 onions
1 leek, chopped
200ml water
400g peanut butter
150g Tahini
small bunch basil
small bunch parsley
4tsp mustard
Instructions
Soak the chickpeas in fresh water and set to one side for 48 hours. Regularly wash, drain and add fresh water the chickpeas.
When the chickpeas have rehydrated and you are ready to make this recipe, preheat oven to 180 degrees Celsius.
Blend the chickpeas in 100ml water.
In a large mixing bowl, place the blended chickpeas, semolina and bulgur wheat and salt. Mix well and add 100ml water and set to one aside.
Dice the onions and leek. Place both in a saucepan with a lid on top. Cook in 150ml of water until both vegetables wilt.
In a separate mixing bowl, combine the wilted onions with the leek, peanut butter, Tahini, basil, parsley and mustard.
Line a large baking tray with dairy free butter.
Spoon the mustard peanut butter mixture into the baking tray.
Using your hands, crumble the chickpeas, semolina and bulgur wheat mixture and add to the top of the mustard peanut butter mixture.
Bake the mustard peanut butter crumble for about 30 minutes until the surface of the crumble turns a lovely rich golden brown colour. Serve immediately.