Malaysian Curry Laksa is one of my old-time classic recipes. This dish uses an umami stock of shiitake mushrooms and kelp. What adds to this dish is the sweet coconut tempers the spicier chillies.  With the individual choosing how much chili oil to add on top.  I also love how the garnishing adds freshness to this dish, giving it a more wholesome all-round experience.
What to do next
Tag me on @ethiveganquantum on Instagram to show me what you've made and let me know you're happy for me to share.
My recipes are featured in vegan speciality publications: Nourished, Vegan Life, Plant Based and Vegan, Food and Living.
Order my first self-published book, "Essence: The Beginner's Guide to Veganism" part of the three-part Circle of Food series. My second book "Presence: The Ascending Vegan" – which explores how to maintain a vegan practice is out in 2027 – I have compiled all the chapters including recipes.
Going strong since 2013.
Love.
Edward x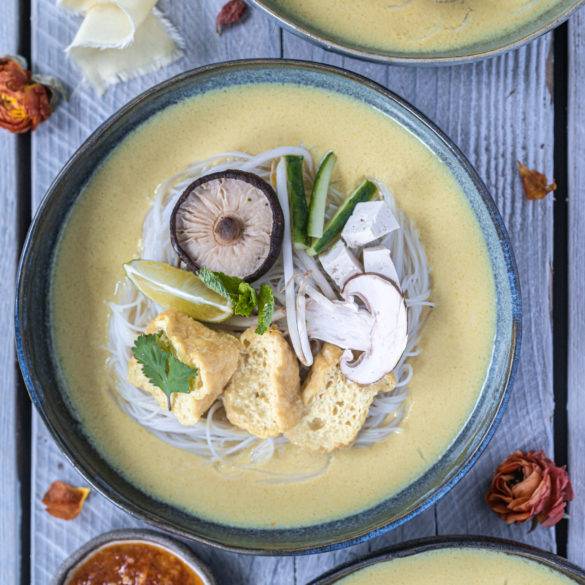 Ingredients
Malaysian Spice Paste (rempah)
200g shallots
1 inch ginger, peeled
6 cloves of garlic
3 small red chillies, birds eye, deseeded
1 1-inch fresh turmeric, peeled
1 2-inch fresh galangal, peeled
2 lemon grass sticks, trimmed (use white parts only)
10 candlenuts (or alternatively, use 50g cashews)
2tbs peanut oil (or olive oil, if unavailable)
For the stock
15g dried shiitake mushrooms (or 80g fresh shiitake mushrooms)
10g kombu dried (also known as kelp)
1.5 litre filtered water
For chili garnishing
3 red eye chillies
4 cloves of garlic
2tbs peanut oil
For Laksa Curry
2tsb peanut oil (or olive oil, if unavailable)
2tbs raw unrefined palm sugar
1 lemongrass, smashed
400ml coconut milk
200g creamed coconut
100g tofu, firm sliced (optional)
150g tofu puffs (deep fried tofu), sliced
100g chestnut mushrooms, sliced
Season to taste
125g rice vermicelli
For garnishing
Few sprigs of mint leaves
Few sprigs of coriander leaves
100g beansprouts
1 pepper, sliced (optional)
Instructions
Make the Malaysian Spice Paste by combining the paste ingredients in a high-speed blender. Depending on requirements.  Use a third of the proportions. Store the rest in a sterilised jar and keep frigerated for up to a month, until needed.
In a large non-stick pan, make the stock by simmering under a low heat the shiitake mushrooms and kombu in water for about an hour.  Sieve and discard the kombu and keep the shiitake for later. Retain the stock and set to one side.
Make the curry paste by placing the chillies and garlic in a high-speed blender. Blend until fine. Transfer to a small skillet. Add the oil and sauté the chillies until the chillies start to float. This will be about 3 to 4 minutes. Set to one side.
Make the rice vermicelli in a separate pan by placing in boiling water for about 3 to 4 minutes. Set to one side.
In a wok place the curry place with oil and with a little stock to form a marsala base.  Gently cook for 3 to 4 minutes. Add the remainder of the stock, sugar, smashed lemon grass and the coconut milk and creamed coconut.  Cook for about 10 minutes.
Add in the mushrooms and cook for a further 5 minutes.
Add in the tofu. Switch off the heat. Season to taste.
Serve the laksa over piping hot noodles Garnish with beansprouts, mint and coriander leaves, and pepper. Drizzle with chili oil, as required.