Pastel de Nata; saffron silky-smooth cinnamon lemony scented custard on a soft crispy puff pastry tart bed.
Venture into a taste sensation. And, bite.
This dish will obliterate your belief that vegan food can't be super scrumptious.
Make this:
When you fancy a rapture of pure elegant indulgence as you lounge into your sofa
When you're in haste with the school runs and need a decadent your kids hunger appetites at lunch
When you've got a charity fete and scratching your head as to the dish you wish to contribute
Pastel de Nata was inspired when living in Lisbon and travelling to Balem on the local trams at the weekends, and during the week enjoying these Portuguese Custard Tarts beauties in the local cafes as I relaxed sipping my morning coffee and reading the international papers.
These little pastry beauties are vegan and Portuguese cuisine.
What equipment to use
For this recipe, I suggest:
High-speed blender
Electric mixer
Oven
What to do next
Tag me on @ethiveganquantum on Instagram to show me what you've made and let me know you're happy for me to share.
My recipes are featured in vegan speciality publications: Nourished, Vegan Life, Plant Based and Vegan, Food and Living.
Order my first self-published book, "Essence: The Beginner's Guide to Veganism" part of the three-part Circle of Food series. My second book "Presence: The Ascending Vegan" – which explores how to maintain a vegan practice is out in 2027 – I have compiled all the chapters including recipes.
Going strong since 2013.
Love.
Edward x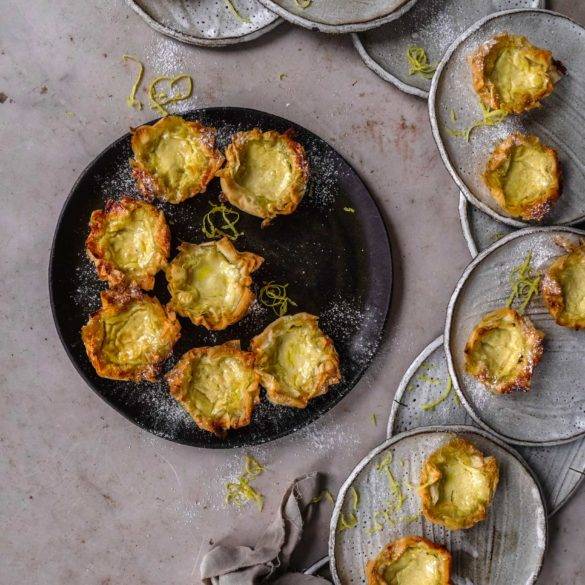 Ingredients
For the pastry

400g Puff Pastry sheets (or other filo pastry)

Olive oil for basting

For the custard

400ml coconut milk

400g organic tofu

125g unrefined cane sugar

Few saffron threads

½ lemon, zest thickly sliced

1 tsp agar agar

½ cinnamon stick
Instructions
Pre-heat the oven to 180 degrees Celsius or if a convection oven to 160 degrees Celsius.
Pour the coconut milk and toss the tofu, sugar and saffron threads into a high-speed blender and blend until creamy.
Transfer a large saucepan and add in the lemon zest and cinnamon stick. Over a very low heat simmer for about 15 minutes. Add in the agar agar. Combine well and set to one side.
Line two 12-muffin tins with olive oil. Take about 8 puff pastry sheets and 5-inch base cake tin and cut round the pastry. Place the pastry into the tin holes. Repeat until all the spaces are filled.
Stir the custard and discard the cinnamon stick and lemon zest.
Take a spoonful of custard and spoon onto the pastry beds. Repeat until completed. Baste the top of the pastry sheets with oil.
Bake for 25 minutes. Set to cool.
Serve cool.
To store refrigerate in a sealed container with each layer between parchment paper.