Soft moist mouth-watering Gulab Jamun with semolina, coconut, citrus lemony cardamon in a rose, saffron and lemon sugar syrup.
Pout your lips. And, indulge in sweet somethings.
This dish will eradicate any belief that vegan food can't be super yummy.
Make this:
When you've got a super-duper Diwali party to organise and a special dessert to entice your guests is on your agenda
When you fancy an indulgent pudding as you lounge into your "me time" weekend
When Aunties are bustling through your front and you need to satiate their appetites instead of asking when you are getting married
Gulab Jamun was inspired by my mum who would make these little beauties when I was young. I created these Gulab Jamun using semolina and not with milk powder; and would be known as Rave Gulab Jamun.
These semolina balls are a vegan dessert and Indian cuisine.
What equipment to use
For this recipe, I suggest:
Stove
What to do next
Tag me on @ethiveganquantum on Instagram to show me what you've made and let me know you're happy for me to share.
My recipes are featured in vegan speciality publications: Nourished, Vegan Life, Plant Based and Vegan, Food and Living.
Order my first self-published book, "Essence: The Beginner's Guide to Veganism" part of the three-part Circle of Food series. My second book "Presence: The Ascending Vegan" – which explores how to maintain a vegan practice is out in 2027 – I have compiled all the chapters including recipes.
Going strong since 2013.
Love.
Edward x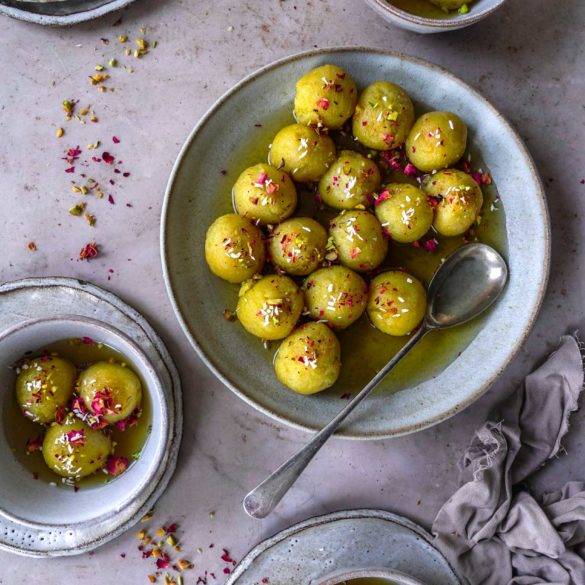 Ingredients
For the Gulab Jamun

275g semolina

375ml coconut milk

6 cardamoms, deshelled

Pinch of baking soda

Oil for frying

For the Sugar Syrup

750ml filtered water

375g unrefined cane sugar

Pinch of saffron

1tsp rose water

1/2 lemon, juice
Instructions
Dissolve the sugar in water in a saucepan over a medium heat. Add in the saffron and rose water. Bring to the boil and simmer for about 20 minutes until the water reduces and a thick syrup forms. Switch off the heat and set to one side.
Dry roast the semolina in a wok for about 3 to 4 minutes. Be careful not to burn. Transfer to a saucepan. Mix in the grounded cardamon and baking soda.
Pour in the coconut milk. Mix well and cook over a medium heat for three or four minutes to allow the semolina to dissolve.
Line a large tray with parchment paper.
Transfer to dough to a large mixing bowl. Place some olive oil and rub into the palm of your hands. Take a little bit of the dough (about 20g) and roll into a ball using your palms.  Transfer onto the parchment paper and keep repeating.
Line a tray with kitchen paper to soak up excess oil.
Once completed heat oil in a wok half filled with oil and deep fry the gulab jamun until they turn to a golden brown. This will take about three to four minutes. Use a slotted spoon to place on the kitchen paper.
Transfer the sugar syrup to a large mixing bowl with the lemon juice. And, gently place the Gulab jamun in the syrup and leave to soak up for at least a couple of hours. Remove the Gulab jamun from the syrup and keep separately until ready to serve.
Refrigerate and serve chilled.