Get something mushy and sticky instead. And, flutter.
Gooey moist nutty Peanut Butter spread slowly dry roasted and churned to release wholesome oils and rich toasted sensuous flavours.
This dish will eradicate any belief that vegan food can't be made with simple household ingredients.
Make this:
When you fancy a little peanut butter and jam sandwiches and the cupboards are empty. A bit of indulgence goes a long way
When going to the shops is too much hard work you fancy a night in with a cosy treat that'll have you lounging and grabbing for more
When you want a wholesome treat and know what's actually in your spread without the additional additives or emulsifiers to put you off
Peanut Butter was inspired by lazy days in front of the fire and having run of shop bought and instead, making my own to go with a nice bit of Damson Jam.
Peanut Butter harks back to the Aztecs and Incas who ground peanuts into a paste.
Peanut Butter is vegan, paleo and a condiment.
Love.
Edward x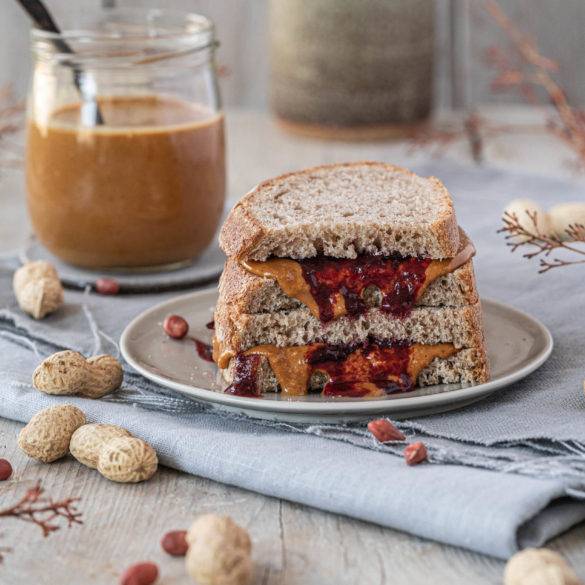 Ingredients
400g peanuts, shelled

4tbs olive oil
Instructions
Preheat oven to 180 degrees Celsius, or if a convection oven to 160 degrees Celsius.
Lay the peanuts flat on a large baking tray. Cover with aluminium foil and bake in the oven for 20 minutes.
Remove and place in a wire sieve and remove the skin. Use a spoon if too hot. Discard the skin.
Place the peanuts in a high-speed processor with olive oil and churn at a low to medium speed for about 20 minutes.
Place the peanut butter into a sterilised jar and serve as necessary.