Tandoori Cauliflower baked and basted in cardamoms, mace, fenugreek, cumin, coriander, nutmeg and coloured in ratan jot.
Dive deep into lusciousness. And, swell.
This dish will topple your belief that vegan food can't be super nourishing and wholesome.
Make this:
When you've got the lads over for a wine tasting evening and a yummy dish that'll have you grabbing for the cauliflower to wetting your appetite
When you fancy an Indian night with dishes that'll have you enjoying an array of super delicious dishes
When it's a Friday night and you're having a quiet night in with a little home cinema film
Tandoori Cauliflower was inspired by nostalgic memories of my parent's cooking and making homemade Tandoori Marsala full of intoxicating flavours and nutritious yumminess.
Tandoori Marsala is a red-hot spice fusion used as a marinade for vegetables. It originates from the Punjab region of South Asia. Tandur means clay oven and Tandoori Marsala is credited to a Mughal king who appreciated clay oven food and created by local chefs. The bright redness of the Tandoori Marsala comes from ratan jot.
Ratan jot is Alkanet root and is traditionally used to redden Indian food and is a traditional Kashmiri ingredient.  It's a mild sweet aromatic spice.  I purchase my ratan jot from ebay. It's easy enough to get.
Tandoori Cauliflower is vegan and paleo.
What to do next
Tag me on @ethiveganquantum on Instagram to show me what you've made and let me know you're happy for me to share.
My recipes are featured in vegan speciality publications: Nourished, Vegan Life, Plant Based and Vegan, Food and Living.
Order my first self-published book, "Essence: The Beginner's Guide to Veganism" part of the three-part Circle of Food series. My second book "Presence: The Ascending Vegan" – which explores how to maintain a vegan practice is out in 2027 – I have compiled all the chapters including recipes.
Going strong since 2013.
Love.
Edward x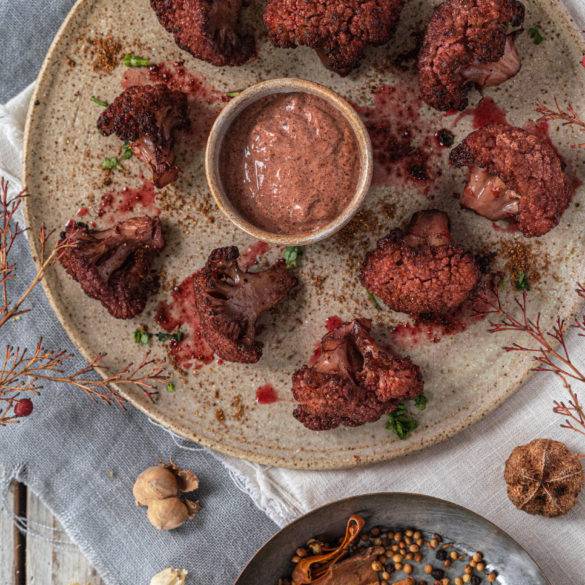 Ingredients
1 cauliflower

Whole spices

2tbs coriander seeds

1tsb cumin seeds

1tsp fenugreek, seeds

1tsp peppercorns

1 nutmeg

1 cinnamon stick, small

2 black cardamoms

4 green cardamoms

2 cloves of India

2 mace flowers

Ground spices

1tsp ginger powder

1tsp garlic powder

Roots

Ratan jot

8 tbs olive oil
Instructions
Grind the ratan jot in a grinder and place in a frying pan with the olive oil. Heat over a low heat for about 10 minutes to allow the colour to seep through. Switch off the heat and sieve the oil through into a large mixing bowl.  Discard the ratan jot.
Cut the cauliflower into florets and soak in the oil. Cover the mixing bowl with a cling film and leave overnight. Turn every now and again to ensure the cauliflower is covered.
Preheat oven to 180 degrees Celsius or a convection oven to 160 degrees Celsius.
Dry roast the coriander, cumin, fenugreek and green cardamon seeds, peppercorns, nutmeg, cinnamon, black cardamon, cloves of India and mace flowers. Keep stirring until the coriander turns golden brown. Switch off the heat.  Grind the spice mix in a grinder.
Place the dry spice mix into a bowl with the ginger and garlic powders. Pour in the yoghurt and mix well.
Baste the cauliflower into the yoghurt mixture and turn over into a baking tray.
Cover in aluminium foil and bake in the oven for 30 minutes.
Serve warm.