Creamy moist pillowy herb fragrant frittata topped with tart barberries and buttery walnuts; Persian Herb Frittata (Kuku Sabzi).
Melt into something fragrant and intoxicating. And, dig in.
This dish will topple your belief that vegan food can't be this super luxurious and yet, divine too.
Make this:
When Spring is all aflutter and your basket is laden with fresh herbs plucked from your local veg shop. It's
When you've got a soiree to organise. And, a bountiful hors d'oeuvres that'll tempt the tongues to start wagging. You'll find the gossip out in no time
When you're living your best life. Its games night with the gang. And, hanging out is so much fun. Why not fancy a bit of pure indulgence as your mates have popped over
Persian Herb Frittata was inspired from my youthful days. An Iranian friend of friend made these savoury succulent beauties as a snack. Nostalgic memories came flooding back as these Herb Frittata were just so simple to rustle up and a right Persian treat.
What equipment to use
For this recipe, I suggest:
Oven
2 x muffin trays
High-speed blender
What to do next
Tag me on @ethiveganquantum on Instagram to show me what you've made and let me know you're happy for me to share.
My recipes are featured in vegan speciality publications: Nourished, Vegan Life, Plant Based and Vegan, Food and Living.
Order my first self-published book, "Essence: The Beginner's Guide to Veganism" part of the three-part Circle of Food series. My second book "Presence: The Ascending Vegan" – which explores how to maintain a vegan practice is out in 2027 – I have compiled all the chapters including recipes.
Going strong since 2013.
Love.
Edward x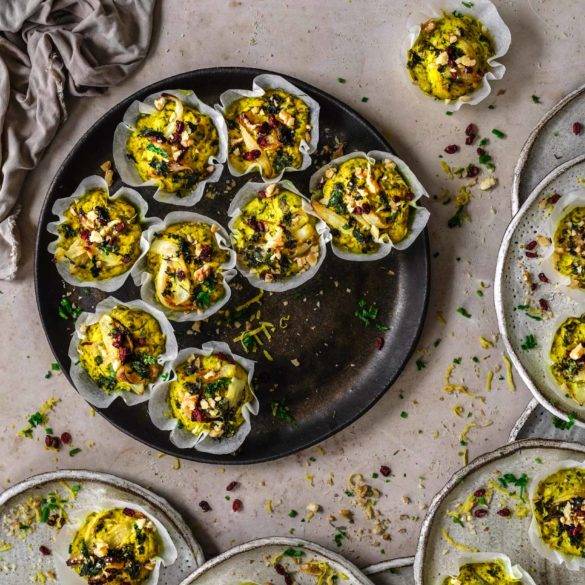 Ingredients
1 onion

2tbs olive oil

400g organic tofu

25g oats

25g flaxseeds

50ml filtered water

½ lemon, juice and zest

1tsp agar agar

1/2tsp turmeric

½ tsp salt

2 cloves of garlic, minced

Small bunch of parsley

Small bunch of coriander

Small bunch of chives

25g barberries

25g walnuts, chopped
Instructions
Pre-heat oven to gas mark 180 degrees Celsius, or if a convection oven to 160 degrees Celsius.
Sauté onion in oil until translucent in a fry pan. Set to one side.
In a blender combine the tofu, oats, flaxseeds turmeric, water, lemon juice, agar agar. Whizz to a smooth consistency. Transfer to a large mixing bowl with the minced garlic and onions and oil. Combine well.
Chop the herbs and mix into the frittata. Season to taste.
Line a couple of muffin trays with oil using a pastry brush. Use base of 5-inch tart tin and draw a pen round parchment paper. Use scissors to cut round the parchment paper. Line the muffin with the parchment paper.
Scoop the frittata onto the parchment paper, distributing equally between each party size until complete.
Drizzle barberries and walnuts atop the frittata.
Cover with aluminium foil and bake in the oven for about 30 minutes until the Frittatas become golden yellow dark green.
Remove from the heat. Allow to cool. Serve either lukewarm or place in the fridge, and eat when cold.