Vegan Stock; umami kelp seaweed and peppery nettles steeped with onion, carrot, celery, bay leaves, thyme and crushed peppercorns.
Quiver with anticipation as this stock takes hold. And, poise for relaxation.
This dish will max out any beliefs.
Make this:
When you've got a lush Broad Bean and Pea Risotto or Pumpkin Risotto crying out for body to it. Link to my Broad Bean and Pea Risotto is here
When you've got a gravy to rustle up and need a flavoured base that'll just lift your Yorkshire Puddings and Sunday Roast
When Soups de jour are the flavour of the month and you need a base to take your taste sensations to the next level
Vegan Stock was inspired when foraging for wild plants with forager, Miles Irving who holds foraging courses in Kent. He'd used brown algae, Sargassum, with nettles to create a stock. Nettles contain glutamate much like seaweed. Here, an umami flavour is created with the nettle and kelp combo. It's easier to get kelp, which you can often find in Japanese and Chinese Asian shops.
Use fresh growing nettle tops, which includes the leaves and top of the stems. I pluck these nettle tops fresh.
For more details on the foraging courses, Miles run, check out Worldwild here. Miles also has a shop with special offerings, you could check out here. I don't have any affiliation to Miles but it might be of interest to you.
This stock uses a slow cooker and is a vegan condiment, gluten-free, paleo. I don't add the thickener to my stock until the cooking process and depending on what I want to rustle up. Nevertheless, this Vegan Stock forms a suitable base.
What equipment to use
For this recipe, I suggest:
High-speed blender
Slow cooker
What to do next
Tag me on @ethiveganquantum on Instagram to show me what you've made and let me know you're happy for me to share.
My recipes are featured in vegan speciality publications: Nourished, Vegan Life, Plant Based and Vegan, Food and Living.
Order my first self-published book, "Essence: The Beginner's Guide to Veganism" part of the three-part Circle of Food series. My second book "Presence: The Ascending Vegan" – which explores how to maintain a vegan practice is out in 2027 – I have compiled all the chapters including recipes.
Going strong since 2013.
Love.
Edward x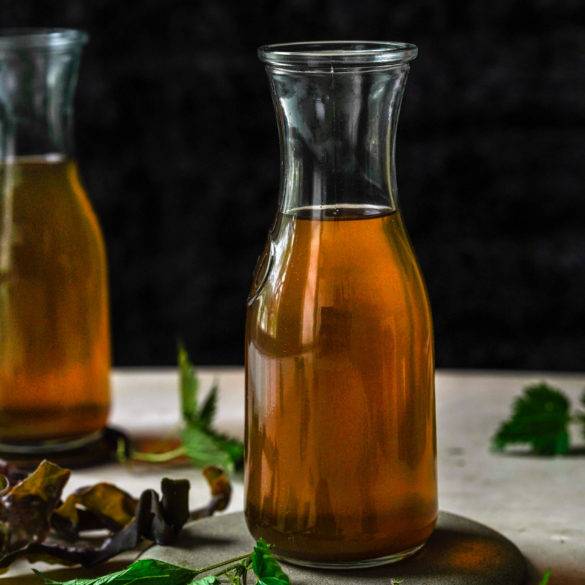 Ingredients
30g Kelp seaweed, dried

60g or Couple of handfuls of nettles tops

3 litres water

2 tbsp olive oil

1 onion, chopped

1 carrot, chopped

2 celery sticks. chopped

Few sprigs of thyme

3 bay leaves

Few crushed peppercorns
Instructions
Place the kelp in a high-speed blender and blitz till fine.
Place all the ingredients in a slow cooker. Leave to steep overnight for at least 8 hours. The temperature should be no more than 60 degrees Celsius.
Use a sieve to remove any solids. Retain the liquid stock.
Use the stock immediately, or refrigerate for up to 3 days. It is possible to freeze but note with freezing, you may lose a nominal amount of taste – but it should still be fine.