Rip into something ripe and feel all gooey inside.
Succulent tangy tart Plum Pie flavoured with citrus lemon and earthy floral thyme on a nutty amaranth pastry base.
What other fruit pies do. You like?
This dish will topple your belief that vegan food can't be so super yummy.
Make this:
When you've freshly harvested/foraged some plums and haven't a clue what to do with them
When you fancy a dinner party with plum pie and some ice cream to top off your extravaganza with friends
When you've got that just out of bed look and feel like a swanky plum pie for later as you set about your day
Plum Pie was inspired when I was foraging for plums and a passer-by remarked how when she was young she would make plum pie with her family – it was a family activity.
Plums have been cultivated around the world and have adapted to various climatic and soil conditions.
Plum Pie is vegan and gluten-free.
Love.
Edward x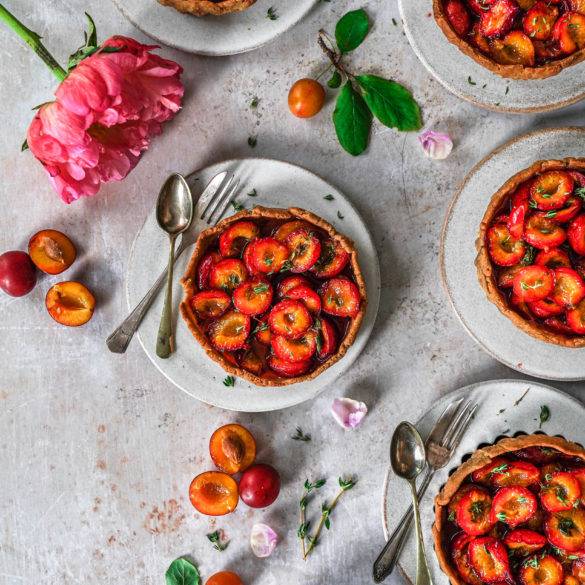 Ingredients
1kg plums, destoned

125g raw unrefined cane sugar

½ lemon juice

Few sprigs of thyme

Pastry

Dry ingredients

100g amaranth seeds

50g oats

25g flaxseeds

25g raw unrefined cane sugar

Pinch of salt

75g tapioca flour

Wet ingredients

30g prune puree

8tbs filtered water

40g coconut oil
Instructions
Destone plums and place in a mixing bowl with the sugar, lemon juice and thyme. Ensure it is all combined well. Set to one side.
Pre-heat the oven to gas mark 180 degrees Celsius or if you have a fan oven 160 degrees Celsius.
Make the pastry by placing the dry ingredients (not tapioca flour) into a high-speed blender and blending till fine. Transfer to a large mixing bowl add in the tapioca flour.
Toss in the prune puree and mix with hands. Next add the water. Continue using the hands. Then add the oil and knead into a bowl. Cover and leave the dough to rest in the fridge for about 30 minutes.
Line 6 4-inch mini-tart shells with oil to ensure that the dough doesn't stick.
weigh the dough and divide into 6. Place each dough piece between two baking sheets and roll into circle. Transfer to the tart shells.
Prick the base with a fork all over. Bake the base in the oven for 10 minutes. Remove from the oven. Set to one side.
Lay the plum mixture topping onto the pastry base.
Return to the oven and bake for a further 15 minutes.
Serve warm or chilled.