Sharp tart Blackberry Ketchup with earthy cinnamon, cardamon, allspice, coriander and a fiery chipotle kick.
Get your tongue all tangy and wrapped up in something hot.
This dish will topple any belief that vegan food can't be simple to put together.
Make this:
When you've freshly foraged a bagful of blackberries on your local country or park walk
When you're fed up with the standard tomato ketchup and fancy moving up a notch on your culinary skills
When you fancy a sharp kick to go with your potato chips
Blackberry Ketchup was inspired after a foraging walk laden with a massive bagful of freshly picked ripe blackberries that needed using up.
Ketchup or catsups, as once known are savoury sauces due to their vinegar quotient. They should be consumed within a couple. Of months.  With less sugar than chutneys, they offer a tarter flavour.
This Ketchup is a vegan condiment and paleo.
What equipment to use
For this recipe, I suggest:
Stove
Cheese nylon cloth or muslin bag
What to do next
Tag me on @ethiveganquantum on Instagram to show me what you've made and let me know you're happy for me to share.
My recipes are featured in vegan speciality publications: Nourished, Vegan Life, Plant Based and Vegan, Food and Living.
Order my first self-published book, "Essence: The Beginner's Guide to Veganism" part of the three-part Circle of Food series. My second book "Presence: The Ascending Vegan" – which explores how to maintain a vegan practice is out in 2027 – I have compiled all the chapters including recipes.
Going strong since 2013.
Love.
Edward x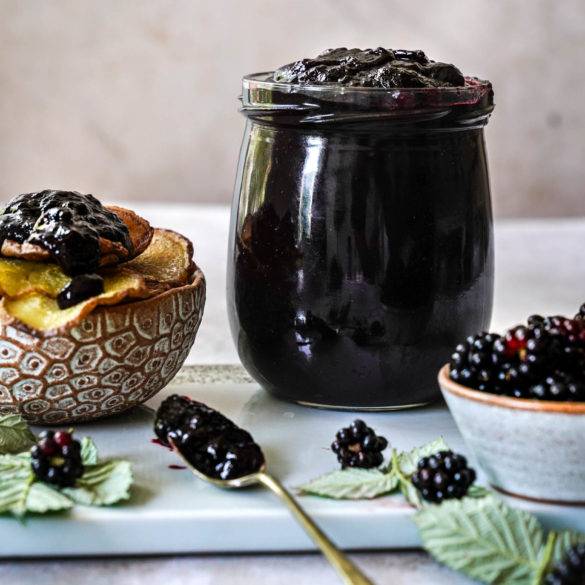 Ingredients
1kg blackberries

150ml filtered water

Pickling spices

½ inch cinnamon stick

2 cardamon pods, seeds

2 Allspice

1tsp coriander seeds

300ml vinegar

1 chipotle dried chili, deseeded

200g unrefined cane sugar
Instructions
Deseed chili by cutting lengthwise, but not through the stem.
Wash the blackberries and place into a large saucepan with the water. Simmer for about 15 minutes until it forms into a puree.
Allow to cool and sieve through a cheese nylon cloth or muslin bag. Discard the pulp (I normally return the seeds scattered to the ground).
Return the blackberry puree to the saucepan.
Grind the spices in a grinder and add with the vinegar, sugar and chipotle to the puree.
Simmer the puree until it forms into a relatively thick sauce. Remove and discard the chipotle and place the ketchup into hot sterilised jars. Allow to cool for about 10 minutes and seal.