Quinoa Yogurt Scones I love because of their softness, moisture and density.  These are best served with some cream and jam and make a perfect addition to afternoon tea.
What to do next
Tag me on @ethiveganquantum on Instagram to show me what you've made and let me know you're happy for me to share.
My recipes are featured in vegan speciality publications: Nourished, Vegan Life, Plant Based and Vegan, Food and Living.
Order my first self-published book, "Essence: The Beginner's Guide to Veganism" part of the three-part Circle of Food series. My second book "Presence: The Ascending Vegan" – which explores how to maintain a vegan practice is out in 2027 – I have compiled all the chapters including recipes.
Going strong since 2013.
Love.
Edward x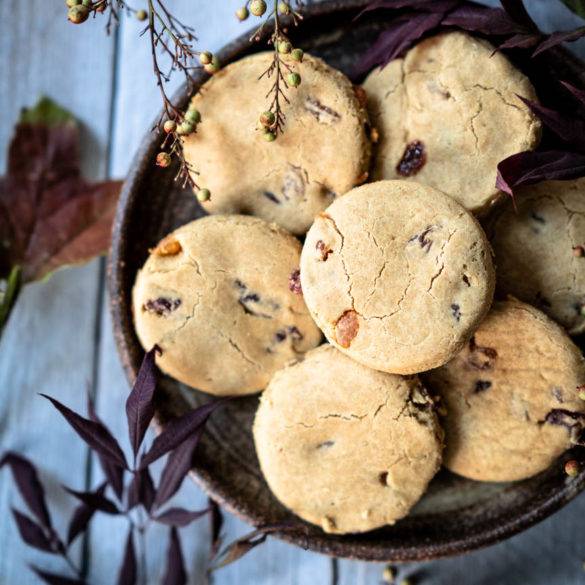 Ingredients
75g sultanas
75ml filtered water
200g quinoa
100g millet
75g raw unrefined cane sugar
30g flaxseeds
3tsp baking powder
pinch of salt
100g yogurt
20ml olive oil
Instructions
Soak the sultanas in filter for 30 minutes.
Preheat the oven to 180 degrees Celsius or if you have a convention oven to 160 degrees Celsius.
Line a baking tin with some baking paper.
Ground the quinoa, millet, sugar and flaxseeds in a high-speed blender and transfer to a large mixing bowl. Stir in the baking powder and salt.
Add in the yogurt and oil. Knead for about three or four minutes.
Place the dough between two baking sheets and roll into ¾ inches thickness. Use a 2.5 cutter. There should be about 6 or 8 scones that turn out from the batch.
Bake in the oven for about 10 minutes.
Serve with vegan cream cheese or just with some jam.