Poached Pear Tart is another one of my lush recipes. I love the succulent taste of the poached pears which have a hint of the Eastern spices seeping through as you take a bite from the tart.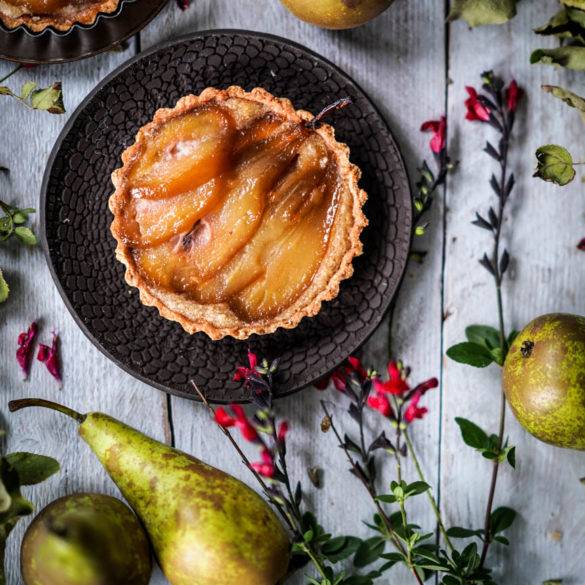 Ingredients
For poaching
6 conference pears, deskinned
2 litres filtered water
Cinnamon stick
3 juniper berries, crushed
2 Star anise
3 all spice berries
For the filling
150g almond flour
150g retained syrup from poaching
Few drops of almond essence
For the glaze
4tbs apricot jam
2tbs filtered water, hot
For the pastry
Dry ingredients
100g amaranth seeds
50g oats
25g flaxseeds
25g raw unrefined cane sugar
Pinch of salt
150g tapioca flour
Wet ingredients
30g prune puree
8tbs filtered water
40g coconut oil
Olive oil for lining
Instructions
Line 6 medium cake tins with oil.
In a large non-stick saucepan, gently simmer and poach the deskinned pears in water, cinnamon, all spice, juniper berries and Star anise for 2 hours. Baste and turn regularly. Set to one side.
Make the pastry by placing the dry ingredients (not tapioca flour) into a high speed blender and blending till fine. Transfer to a large mixing bowl add in the tapioca flour.
Add in the wet pastry ingredients. Kneed the pastry into a dough. Weigh and measure the dough. Separate into 6 pieces of equal and approximate weight.
Form the dough into a ball and place between two sheets of baking paper. Roll out the dough into a thin circular layer. Remove one sheet and place around the flan dish.
Pre-heat oven to 180 degrees Celsius or if you have a convention fan, to 160 degrees Celsius.
Prick the pastry and place in the oven for about 10 minutes.
Make the filling by taking the ground almond and mixing it with 150ml of the retained water from the poaching. Use a sieve.
Take the pastry from the oven and spread the almond filling over each of the 6 pastries.
Place and layer the slices of poached pear on top of the almond filling.
Make the glaze by combining the apricot jam and water. Using a pastry brush, glaze the sugar mixture over the pears
Place the flan in the oven for 20 minutes.
Serve the Poached Pear Tart with vegan ice cream.
Notes
By Edward Daniel, Vegan Chef and Former Chair of The Vegan Society. Contributor to Vegan Life Magazine, Plant Based Magazine, Vegan Food and Living Magazine and OK! Magazine. Speaker and cooking demonstrator at Vegan Life Life Festival London, Mind Body and Spirit Festival London, Veganes Sommerfest Berlin, and Bali Vegan Festival. Author of "Essence: The Beginner's Guide to Veganism".