Aubergines and courgettes slowly baked in a thyme, marjoram, oregano, bay leaves and fennel seeds tomato sauce, and topped with charred peppers, red wine vinegar and freshly ground black pepper; Ratatouille.
Taste something fresh and hearty.  And, lounge.
This dish will topple any belief that vegan food can't be made with a few simple household ingredients.
Make this:
When you've had a banger of a night before and hearty dish that'll touch all the sides as you feel the hangover play out
When it's a lazy Sunday and wholesome nutritional dish that'll be perfect for lunch is just what's needed to round off your weekend
When you're feeling creative and fed up with the run of the mill Ratatouille
Ratatouille was inspired when first a student and creating a dinner with simple household ingredients for friends was needed.  It was in Chester where I met by best friend.
Ratatouille is a great hearty, striking and rustic dish. Aficionados separately cook each ingredient.  I prefer it this way too as it means when you bite into the Ratatouille the flavours of each ingredient basted in the herbs are enriched with their own individual flavour, making the Ratatouille rich and deliciously appetising.
Ratatouille is vegan, paleo and French cuisine at its finest.
What to do next
Tag me on @ethiveganquantum on Instagram to show me what you've made and let me know you're happy for me to share.
My recipes are featured in vegan speciality publications: Nourished, Vegan Life, Plant Based and Vegan, Food and Living.
Order my first self-published book, "Essence: The Beginner's Guide to Veganism" part of the three-part Circle of Food series. My second book "Presence: The Ascending Vegan" – which explores how to maintain a vegan practice is out in 2027 – I have compiled all the chapters including recipes.
Going strong since 2013.
Love.
Edward x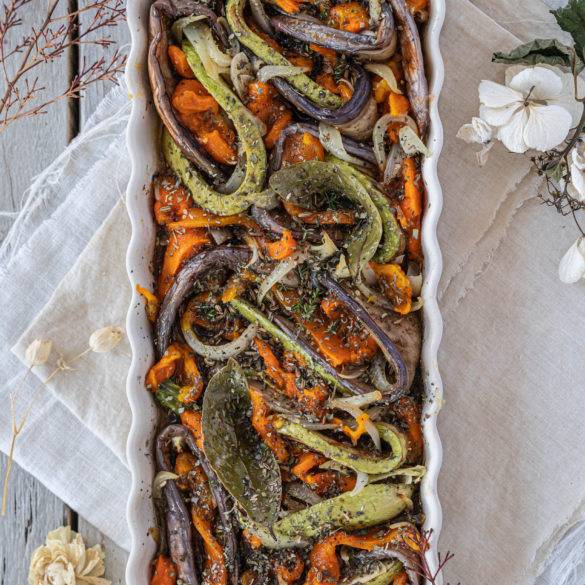 Ingredients
100g olive oil

2 aubergines

1 medium red onion

2 cloves garlic, crushed

2 courgettes

2 bell peppers, chopped

400g large vine tomatoes, chopped

1tbs red wine vinegar

Few sprigs of thyme

1tbs marjoram

1tbs oregano

1tbs fennel seeds

2 bay leaves

black pepper
Instructions
Thinly slice the aubergines. Place into a colander and drizzle with sea salt. Place a cloth over the colander and stand for approximately an hour. Dry the aubergines with the cloth ensuring all moisture is removed.
Top tip – the salt helps draw out any excess moisture and bitterness.
Preheat oven to 180 degrees Celsius, or to 160 degrees if a convection oven.
In a frying pan sauté the onion in a couple of tablespoons of oil until translucent. Set to one side.
Separately sauté the aubergines and courgettes in the remaining oil and set to one side until they start to brown.
Boil water and switch off the heat. Dowse the tomatoes in the water for a couple of minutes and peel off the skin.  Whizz the tomatoes into a puree and transfer to a bowl.  Add in the herbs.
Transfer all the ingredients, save the bell pepper into a large baking dish and pour over the tomato paste.
Cover with aluminium foil and bake in the oven for 30 minutes.
In a separate baking dish dry roast the peppers for 20 minutes until charred. Remove the skin and seeds and set to one side.
Just before serving add some freshly ground pepper, bell pepper and drizzle over the red wine vinegar.