Mango Parfait is one of those lush light recipes that adds vitality and flavour to any wind down of an evening. Just lounging in solitude and gorging on some Mango Parfait; particularly if you have chickpea water drained from a can and don't know what else to do with the aquafaba.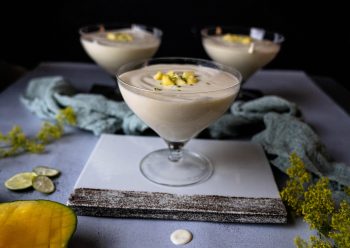 Ingredients
1 mango
75g raw unrefined cane sugar
200g vegan yoghurt
½ lime, juice and zest
Water retained from chickpeas drained from can (aquafaba)
Instructions
Place sugar in a saucepan over a medium heat. Stir continuously with a wooden spoon. As soon as the sugar crystalises immediately stir in the yoghurt. Coat and ensure well combined.
Transfer the sugar into blender with the mango and lime and whizz for about minute.
In a large mixer whisk the chick pea water until it turns white and thick. Stir in the mango mixture with a spatula.  Switch off the mixer. The parfait should be a smooth creamy colour.
Transfer the parfait to a serving bowl or into bowls and place in the fridge for about 30 minutes.
Serve chilled. Garnish with some lime zest, if preferred.