Get your palette cleansed with a little ray of sunshine. And. glow.
Tart gooseberries with sweet fragrant nutmeg swimming in honey-like saffron and floral rose water yoghurt; Raw Gooseberry Compote with Saffron Yoghurt.
This dish will tramp over any belief that vegan food isn't easy to rustle up.
Make this:
When you're wanting a quick and easy brekkie as you rush out the door for work
When you've got a new beau/belle on a staycation with you and want something that looks visual and tastes amazing in the morning as you open the blinds
When you've got a dinner party organised and want something that's easy to put together yet looks stunning and is the bees knees
Raw Gooseberry Compote with Saffron Yoghurt is a fusion Indian breakfast dish and was inspired having crossed sandy roads across the harsh terrains of rural Pakistan.
A compote is a simple fruit sauce, usually made with fresh or dried food.  Normally, it is gently simmered in its juices with sugar syrup. Unlike, jams and jellies, it tends to be eaten quicker. This raw dish – is merely the uncooked version – retaining its vitamin A and C, that Gooseberries have at their fullest and finest in their raw natural state.
Plus, that pinch of saffron, an aphrodisiac, might lead you back into bed. Who knows…
Raw Gooseberry Compote with Saffron Yoghurt is vegan, raw and paleo.
Love.
Edward x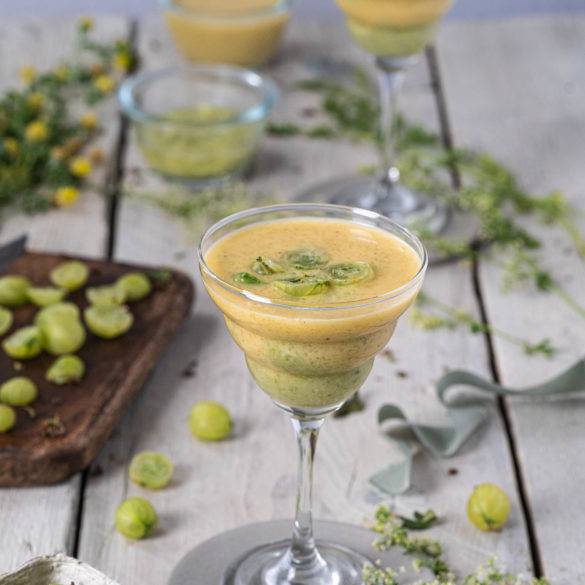 Ingredients
250g gooseberries

25g raw unrefined sugar cane

350g vegan yoghurt (preferably coconut for paleo)

50g raw unrefined sugar cane

Pinch of saffron

Pinch of nutmeg

2tbs rose water
Instructions
Blend the gooseberries with the sugar in high-speed blender. Set aside.
Place the yoghurt, sugar, saffron, nutmeg and rose water in a high-speed blender. Combine until the yoghurt turns a lush yellow colour.
Serve the gooseberries with the yoghurt.