I  keep being asked to make more raw dishes and this is one of those fresh dishes that really opens up the palate. The fresh vine leaves really enhance the taste; try to get these if available, otherwise, opt for those in brine.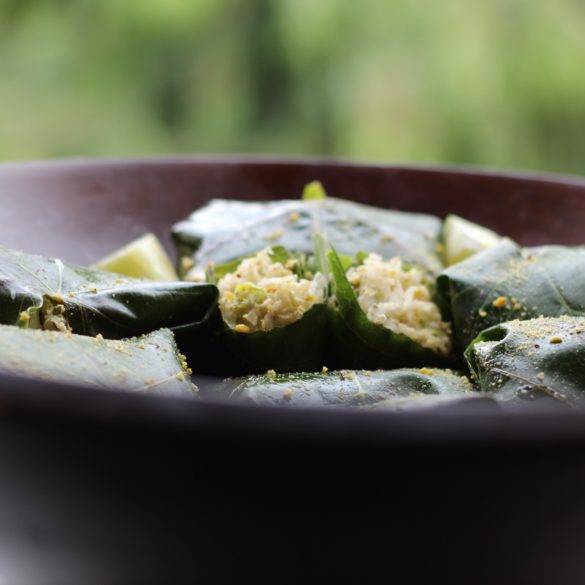 Ingredients
1 mouli
1 cauliflower
2 cloves garlic minced
4 spring onions
2tbs mint, chopped finely
50g pistachios, chopped
2tsb pistachio oil
1 lime freshly squeezed
20 fresh vine leaves
For garnishing
1 lime
pistachio oil
pistachios, finely chopped
Instructions
Grate the mouli and cauliflower in a large bowl.
Chop the mint in a grinder. Squeeze the juice of one lime. Stir these ingredients into the mouli and cauliflower mixture together with the spring onions, minced garlic, pistachio oil, and freshly squeezed lime. Mix well.
Fill a large saucepan with boiling water. In a separate mixing bowl place cold water. Using a pair of tongues blanche a vine leaf for only ten seconds in the hot water before immediately cooling in the cold water.
Top tip – this quick blanching ensures that the vine leaves retain their vibrant colour.
Place the leaf on a chopping board. Place a spoonful of the mouli and cauliflower mixture into the centre of the leaf. Wrap one side and then the other over the vine leaf and turn over so that the herbed rice is wrapped into an oblong shape.
Repeat the tasking of blanching and stuffing the vine leaves until all the mouli and cauliflower mixture is used up.
Place the vine leaves into a serving dish. Garnish with lime and pistachios and drizzle with oil. Serve immediately.