Finessed exotic citrusy kumquat eliciting (or should I say soliciting…) floral chocolate embedded in a nutty hemp cream laid over a subtle peppery amaranth pastry; Kumquat and Chocolate Tart.
Swoon into something soft and silky that will erupt your sensual pleasures and desires… And, collapse.
This dish will topple any belief that vegan food can't be super scrumptious.
Make this:
When you've a dinner party for friends but want to look as if whatever you make is effortless
When you're wanting some solitary confinement after a hard-working week and simply want to enjoy your own company with a little binch indulgence
When the sun's blazing and fancy something exotic to go with your Martini Expresso
Kumquat and Chocolate Tart was inspired when tasting a yummy array of pastries at a London vegan patisserie and arching for more.
Kumquats, I purchase from The Green Valley, a Lebanese & Middle Eastern Food Hall, I frequent for my Middle Eastern ingredients.  You can find it here – what I love about this place is the range of products. It's a great little outlet.
Hemp hearts, I get from Earthfare in Glastonbury, an eco friendly grocer.  You can find it here
I first served this at a meeting with my fellow Council members when I was Chair of The Vegan Society – fortunately, they were the "try-out" crowd and this dish has been slightly adapted since its first inception.
Kumquat and Chocolate Tart is vegan, paleo and gluten-free.
What to do next
Tag me on @ethiveganquantum on Instagram to show me what you've made and let me know you're happy for me to share.
My recipes are featured in vegan speciality publications: Nourished, Vegan Life, Plant Based and Vegan, Food and Living.
Order my first self-published book, "Essence: The Beginner's Guide to Veganism" part of the three-part Circle of Food series. My second book "Presence: The Ascending Vegan" – which explores how to maintain a vegan practice is out in 2027 – I have compiled all the chapters including recipes.
Going strong since 2013.
Love.
Edward x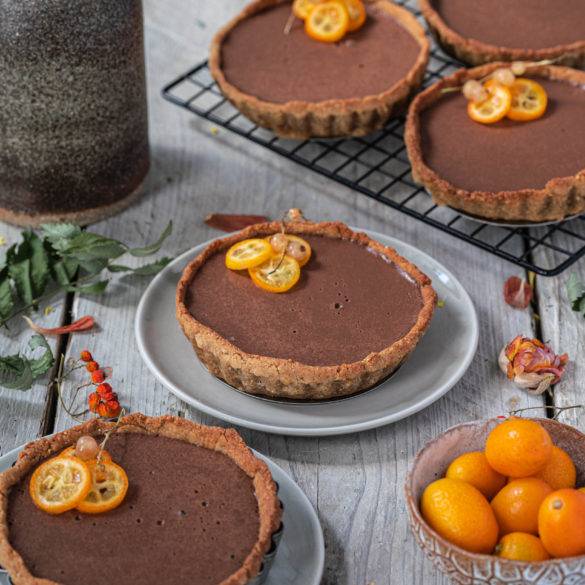 Ingredients
For the topping

75g hemp hearts

125g raw unrefined cane sugar

40g kumquats

500ml filtered water

50g cocoa powder

2tsp agar agar

30g cocoa butter

30g coconut oil

Pinch of salt

Pastry

Dry ingredients

100g amaranth seeds

50g oats

25g flaxseeds

25g raw unrefined cane sugar

Pinch of salt

75g tapioca flour

Wet ingredients

30g prune puree

8tbs filtered water

40g coconut oil

Garnishing – extra kumquats
Instructions
Pre-heat the oven to gas mark 180 degrees Celsius or if you have a fan oven 160 degrees Celsius.
Make the pastry by placing the dry ingredients (not tapioca flour) into a high-speed blender and blending till fine. Transfer to a large mixing bowl add in the tapioca flour.
Toss in the prune puree and mix with hands. Next add the water. Continue using the hands. Then add the oil and knead into a bowl. Cover and leave the dough to rest in the fridge for about 30 minutes.
Line 6 4-inch mini-tart shells with oil to ensure that the dough doesn't stick.
Place a dough between two baking sheets and roll into a rectangle or circle – the rectangle or circle should be large enough to cover the base of the tart dish. Cut away any excess. Prick the base with a fork all over. Bake the base in the oven for 10 minutes. Remove from the oven. Set to one side to cool.
Place in a saucepan, the water, sugar and agar agar and bring to the boil. Simmer for about 10 minutes.  Set to one side.
Place the hemp hearts and salt in a high-speed blender and blend until fine. Add in the agar agar mixture, kumquats and cocoa powder. Blend until fine.
Place the cocoa butter over a bainmarie (i.e. place the cocoa butter in a glass bowl over a saucepan full of boiling water). Melt with the coconut oil and add to the kumquat and chocolate mixture.
Continue whizzing and pour the kumquat and chocolate mixture into the tart shells.
Place the tarts to the freezer for at least a couple of hours and then transfer to the fridge until serving.
Garnish with kumquats.
Serve the Kumquat and Chocolate Tarts on their own or with ice cream.