Roasted Beetroot Sesame Dip is such an easy dip to make for when gets arrive. It is colourful and healthy too…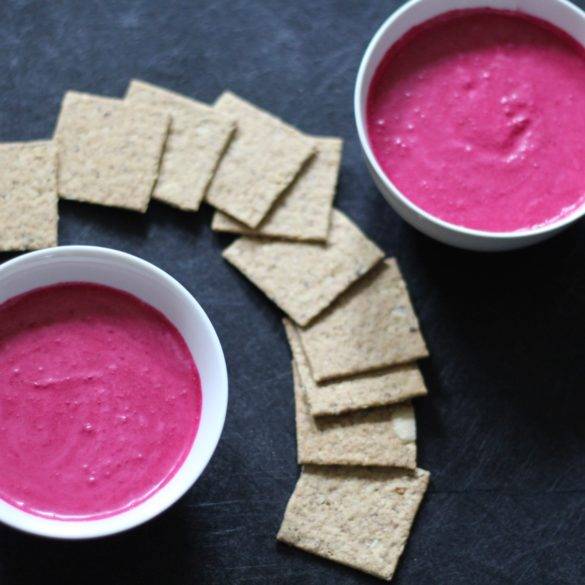 Ingredients
200g beetroot
2tbs extra virgin olive oil
1tbs malt vinegar
400g coconut yoghurt
4tbs sesame seeds, roasted and grounded
Instructions
Preheat oven to 180 degrees Celsius.
Peel the skin off the beetroot and place in a baking tray. Cover with the oil and vinegar and roast in the oven for about 25 minutes. Set aside.
Place the beetroot with the vinegar yoghurt and sesame seeds in a blender. Whizz to a smooth consistency.
Serve with crackers or with pita bread.
Notes
By Edward Daniel, Vegan Chef and Former Chair of The Vegan Society. Contributor to Vegan Life Magazine, Plant Based Magazine, Vegan Food and Living Magazine and OK! Magazine. Speaker and cooking demonstrator at Vegan Life Life Festival London, Mind Body and Spirit Festival London, Veganes Sommerfest Berlin, and Bali Vegan Festival. Author of "Essence: The Beginner's Guide to Veganism".