Pineapple and Daikon Gazpacho is for those who love rich intense sweet and sour flavours. This dish makes for a vibrant summer starter and cleanses the palate.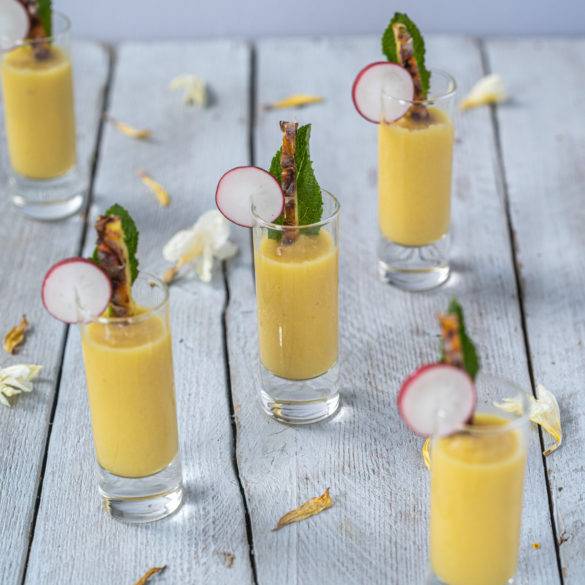 Ingredients
Gazpacho
200g pineapple
150g Daikon (alternatively known as mouli)
100ml filtered water
1 shallot
1tbs sherry vinegar
Season to taste
For garnishing
2/3 radishes
Couple of sprigs of mint
Instructions
Whizz all the gazpacho ingredients together in a high-speed blender until fine.  Season to taste.
Transfer the gazpacho to a serving bowl and chill in the fridge for at least a couple of hours.
Serve garnished with radishes and mint.
Notes
By Edward Daniel, Vegan Chef and Former Chair of The Vegan Society. Contributor to Vegan Life Magazine, Plant Based Magazine, Vegan Food and Living Magazine and OK! Magazine. Speaker and cooking demonstrator at Vegan Life Life Festival London, Mind Body and Spirit Festival London, Veganes Sommerfest Berlin, and Bali Vegan Festival. Author of "Essence: The Beginner's Guide to Veganism".