Creamy charred Roasted Pepper and Tomato Soup flavoured with oregano and harissa thickened with lentil pearls.
Imagine something soft and lush slide down your throat. And, swallow.
This dish will topple any belief that vegan food can't be made with simple household ingredients.
Make this:
When its Autumn outside and the leaves are falling and a little vegetable broth that'll have you arching your feet up as you lounge is just what you need
When you have an ha-ha moment and your body is craving a hearty charred pepper soup
When you're on a slippery slope to indulging too much heavy food, and need a dish that's fulfilling yet yummy too
Roasted Pepper and Tomato Soup was inspired when visiting friends in Cornwall, and rummaging round the local market and rustling up a nourishing soup.
Peppers otherwise known as capsicums were cultivated around 5,000BC, originating from Mexico, Central and South America. Since then they have spread and now grown in Africa and Asia.
Roasted Pepper and Tomato Soup is vegan and paleo.
What to do next
Tag me on @ethiveganquantum on Instagram to show me what you've made and let me know you're happy for me to share.
My recipes are featured in vegan speciality publications: Nourished, Vegan Life, Plant Based and Vegan, Food and Living.
Order my first self-published book, "Essence: The Beginner's Guide to Veganism" part of the three-part Circle of Food series. My second book "Presence: The Ascending Vegan" – which explores how to maintain a vegan practice is out in 2027 – I have compiled all the chapters including recipes.
Going strong since 2013.
Love.
Edward x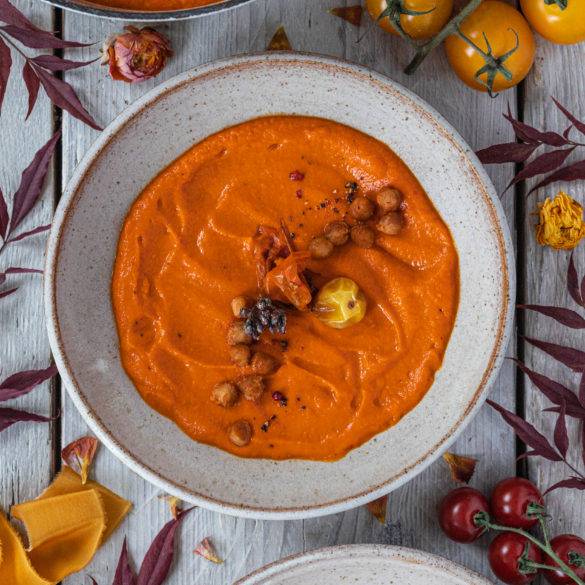 Ingredients
750g peppers (Spanish, if possible)

400g tomatoes

6tbs olive oil

1 onion

2 cloves of garlic

1 litre filtered water

100g lentils

½ tsp dried oregano

1tsp harissa (optional)

Salt and pepper to season

1tbs lemon juice
Instructions
Preheat oven to gas mark 180 degrees Celsius, or if convection oven at 160 degrees Celsius.
Roast the peppers and tomatoes in separate ovenproof dishes and baste on the olive oil. Add more oil to the peppers than the tomatoes
Bake the peppers and tomatoes in the oven for about 30 minutes – until the skin of peppers starts to char. Remove from the oven and set aside.  Retain the juices.
Once the peppers and tomatoes have cooled, peel off the skin.
Soak the lentils in filtered water for about 20 minutes.
In a large saucepan, sauté the onion and garlic in the retained juices for a couple of minutes until the onion turns translucent. Add the peppers, tomatoes, lentils, oregano and water. Bring to the boil and simmer for about 20 minutes. If you want a kick add the harissa but that is optional.
Place the broth into a blender in batches and whizz till a fine consistency.
Season with salt and pepper. Drizzle and stir in the lemon juice.
Serve with bread.