Chickpea and Roasted Tomato and Garlic Curry resulted as a consequence of one of my friends had issues with gallstones; I had to rustle up a dish that was oil free for him. What I love about this dish is the caramelised flavours of the garlic and tomato that melt with the curry.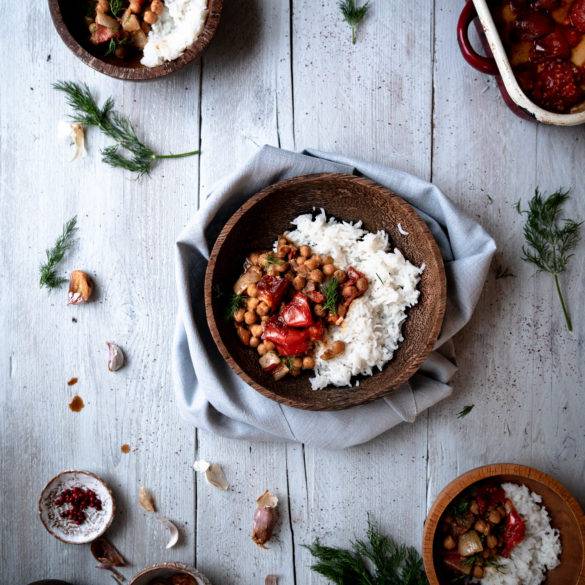 Ingredients
200g chickpeas soaked and cooked (this will yield about 450g of chickpeas)
400g tomatoes
1tbs balsamic vinegar
½ bulb of garlic
1 onion
200ml filtered water
1tbs sumac
1tbs cumin
1tbs coriander powder
Few sprigs of dill
2tbs nutritional yeast
1tbs lemon juice
Salt and pepper to season
Garnish
Few sprigs of dill
Instructions
Preheat oven to gas mark 180 degrees Celsius.
Place the tomatoes in an ovenproof dish and baste on the balsamic vinegar.
Place the garlic in a separate dish and dry roast,
Bake the tomatoes and garlic in the oven for about 20 minutes. Remove from the oven and set aside.
Once the garlic has cooled, peel off the skin. Chop the tomatoes and garlic.
In a large saucepan, sauté the onion in the filtered water for a few minutes until the onion turns translucent. Add the spices, dill and chickpeas. Bring to the boil. Simmer for a few minutes. Stir in the tomatoes, balsamic vinegar and garlic. Switch off the heat.
Add the nutritional yeast, squeeze in the lemon juice and season with salt and pepper. Place a lid on top of the saucepan until ready to serve.
Place the broth into a blender in batches and whizz till a fine consistency. Return to the saucepan.
Squeeze juice of half an orange and season with salt and pepper.
Garnish with dill.
Serve with rice
Notes
By Edward Daniel, Vegan Chef and Former Chair of The Vegan Society. Contributor to Vegan Life Magazine, Plant Based Magazine, Vegan Food and Living Magazine and OK! Magazine. Speaker and cooking demonstrator at Vegan Life Life Festival London, Mind Body and Spirit Festival London, Veganes Sommerfest Berlin, and Bali Vegan Festival. Author of "Essence: The Beginner's Guide to Veganism".