Roasted Seitan Stuffed with Chestnuts, Cranberries and Fennel
Happy Thanksgiving! This dish is for my American, Japanese, German and Canadian friends living here in Britain. It combines our British traditional autumnal crops - chestnut and cranberries, which are so prolific this time of year. This dish can also be made on Christmas day; an ideal substitute for turkey! This seitan roast stuffed with chestnuts, cranberries and fennel is a terrific way for friends to come and celebrate together for a special thanksgiving meal. I only use thyme in this dish, as I think this is perfect because it pleasantly inoculates the senses. I served this dish for a friend today as a prelude to the thanksgiving festivities - it was a pleasant diversion... When she mentioned to her friends that she was coming to mine for a vegan roast, her "so-called" friends turned in horror and gasped that on her return home she should make a slight detour to a rather famous fast food joint!! Understandably, I was not suitably impressed!! However, I was game on! Fortunately, (and to my luck) she had second helpings of this roast and was aghast that this vegan dish had such a meaty and flavoursome texture to it. The chestnut stuffing is not too overpowering and just falls languidly into the mouth. Try it and happy thanksgiving!
Cuisine:
Vegan, Vegetarian
Ingredients
For the filling:
150g cranberries
100ml port
350g chestnuts
1 onion
2 tbsp olive oil
1 fennel
1 small bunch of thyme sprigs, retain a few for garnishing
1tbsp lemon juice
2 cloves garlic
For the seitan roast:
300g vital wheat gluten
25g nutritional yeast
240g butter beans
2tsp soy sauce
3tbsp olive oil
1tbsp tahini
¼ paprika
1tbsp chia seeds
For the broth:
200ml vegetable stock (made with filtered water)
1 tbsp soy sauce
2 tbsps walnut oil
(and remaining port as below)
Instructions
Filling
Day 1
Soak the cranberries in port overnight.
The night before, cover the chestnuts in water and bring to the boil. Reduce to medium heat and cook for about 30 minutes. Allow to cool. Set aside.
De-shell the chestnuts ensuring the shell and the outer skin come off. Set the chestnuts aside overnight in the refrigerator.
Top tip
I suggest that you de-shell the chestnuts the night before in order to save time the following day as this is a time consuming activity. Do not worry if you are unable to take all of the outer skin off, just try to take off as much as you can. Alternatively, you may wish to use frozen de-shelled chestnuts - in which case, you should measure about 330g chestnuts.
Keep a handful of chestnuts aside - these will be used for garnishing purposes.
Day 2
Preheat the oven to gas mark 230 degree Celsius.
Sauté the onion in oil, until the onion is translucent.
With a slotted spoon, take the cranberries from the port and place into a food processor. Retain the port and leave to one side.
Using your hands remove the thyme leaves from the sprigs.
Add to the food processor the chestnuts, fennel, lemon juice, thyme leaves, garlic and onion with oil. Take care to only whizz the mixture for a few seconds. Ideally, it needs to combine to a rough texture.
Place the mixture into a bowl and set to one side.
Seitan Roast
In a large mixing bowl, combine the wheat gluten with nutritional yeast.
In a food processor, add the butter beans, soy sauce, olive oil, tahini, paprika and chia seeds. Measure in 2 tbsp of the above retained port. Whizz the mixture, until it is a fine texture.
Combine the butter bean mixture with the wheat gluten, using a spatula. Once combined, use your hands to knead into a dough. Continue to knead the dough until it is soft, fluffy and airy. Leave to one side for about 10 minutes.
The broth
Gently heat the vegetable broth with soy sauce, walnut oil and remaining port. Put to one side.
Assembling
Measure out two 40cm/16 inches of cling film and place one a flat surface (and retain the other for the moment).
Place the seitan onto the cling film and place the other piece of cling film on top.
Using a rolling pin, gently roll out the seitan.
Top tip
I find that cling film is better than foil and baking paper, as otherwise either of these are likely to tear. The purpose of the cling film is to ensure that the seitan rolls out, otherwise it is liable to spring back to its original shape because of its elasticity.
Roll out the seitan, turning it over on either side of the cling film. Ideally, you want to roll out the seitan until it is about 12 inches by 8 inches.
Line a large baking tray with aluminium foil.
Gently remove the seitan from the cling film and place into the centre of the baking tray.
Add the filling to the centre of the seitan. Make sure that you leave at least 1 inch to the sides and about 2 inches towards the end.
Gently bring up the horizontal sides of the seitan to that it forms a log. Pinch together. Then pinch the ends so that you seal into a long seam.
Top tip
The sealing does not have to be perfect, as you can see for the dish I have prepared.
Place a few of the remaining springs of thyme on top of the seitan. The thyme will act as garnish and the aroma of the thyme will soak through the seitan.
Drizzle the retained chestnuts with oil, and place at the side of the seitan.
Cover the seitan with a further sheet of aluminium foil and bake for about 50 minutes.
After an hour, start basting the seitan with the broth with a basting brush, keeping care to place the foil back on top after you have done. Cook for about 30 minutes more, regularly basting every few minutes.
The seitan is cooked once it is a rich golden brown colour.
Remove the seitan and place onto a serving dish. Place the roasted chestnut on top and to the side of the seitan. Slice and serve the seitan. The remaining broth can be used as gravy.
_____________________________________________________
EthiVegan by Edward Daniel
What future would you like to paint? What I say is that it is possible to lead a fulfilling life by going within, living in alignment, letting go of the past and thriving on a vegan diet.
To find out more of what is happening in my life, journey, and travels – as I balance work as a full-time solicitor, being a vegan chef and creating new recipes, speaking at vegan events on animal rights, the environment, spirituality and activism in the United Kingdom and abroad, and write my next book then follow me:
Instagram – subscribe to get to know me personally and get regular updates.
Youtube – subscribe here for my interviews with trailblazer and those making a change and difference.
Or, self-published, order your copy of my first book "Essence: The Beginner's Guide to Veganism" in the three part "Circle of Food" series which is currently out here.  Reviews of this book can be found on Amazon here.
My second book in the "Cirlce of Food" series is entitled "Presence: The Ascending Vegan" covers animal rights/welfare and liberation (using my skills as a lawyer), spiritual chapters on living in the present, balancing the masculine and feminine, the Mandela effect, the Universal laws, and has even more recipes and poetry is out in 2020.
As I self-fund all my activities from my work as a solicitor – including self-publishing and attending events it is matter of living in alignment and the Universe in its wisdom will provide – and, of course, I have time to balance it all and simply create.
My end goal is to host my own T.V. show on vegan recipes and on veganism.  Please support me in my quest.
Love you all.
Edward x
Edward Daniel | Servant to Humanity | Second Wave | Chef | Digital Information and Media Solicitor | Author | Poet | Presenter | Former Chair, The Vegan Society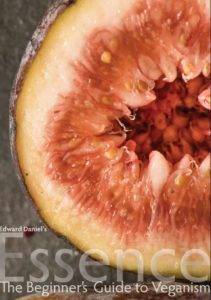 Related articles