Life invigorating Sprouted Chickpea Hummus infused with olive oil, tahini, garlic, lemon juice and a trace of salt and pepper, topped with sweet paprika.
Savour something smooth as it slides down your throat.
This dish will overcome any hurdle that vegan food can't be simple to make.
Make this:
When you've got a party and need a scrummy dip that'll go with all the crackers and tortilla chips
When you've got a last-minute dinner party and need a quick and dirty starter that'll have you
When the lads are over for poker night and you a snack that'll fix hunger pangs to go with your lager
Sprouted Chickpea Hummus was inspired when having a raw potluck – a dish that'd satiate appetites and be quick to rustle up.
Not only is this live food but there is a certain nuttiness to the chickpeas which is sometime lost through cooking them.  Still this Sprouted Chickpea Hummus retains its creaminess assisted by the tahini, oil and lemon juice.
Hummus is a Middle Eastern dip. Tahini provides the ying and chick pea the yang – aligning perfectly in this dish.  High in fibre it promotes good gut health.
You can find
I serve this Hummus recipe with my Four Seeded Raw Crackers recipe, found here.
What equipment to use 
For this recipe, I suggest:
High speed blender
What to do next
Tag me on @ethiveganquantum on Instagram to show me what you've made and let me know you're happy for me to share.
My recipes are featured in vegan speciality publications: Nourished, Vegan Life, Plant Based and Vegan, Food and Living.
Order my first self-published book, "Essence: The Beginner's Guide to Veganism" part of the three-part Circle of Food series. My second book "Presence: The Ascending Vegan" – which explores how to maintain a vegan practice is out in 2027 – I have compiled all the chapters including recipes.
Going strong since 2013.
Love.
Edward x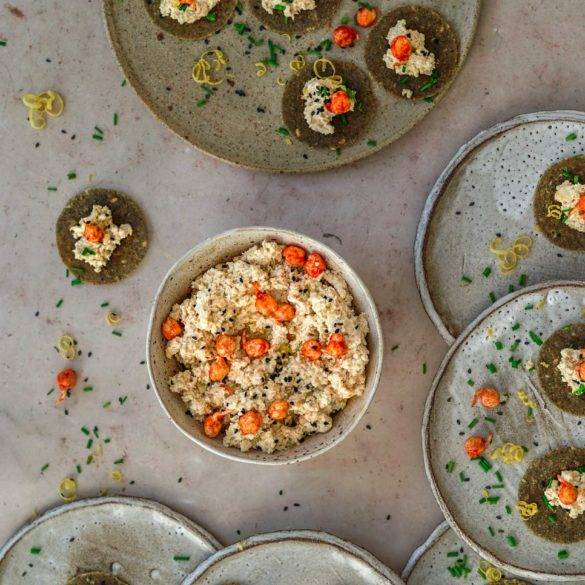 Ingredients
100g chickpeas

3tbs olive oil

2tbs raw tahini

30ml filtered water

1 clove garlic

1/2 lemon, juice

Pinch of salt and pepper

½tsp sweet paprika powder
Instructions
Sprout the chickpeas by soaking in water for 24 hours.
Drain the chickpeas and resoak in fresh water for a further 24 hours.
Redrain and place in the chickpeas in a colander over a bowl. They should be sufficiently rehydrated. Cover with a cloth for 48 hours at room temperature. The chickpeas should start to sprout.
Remove about 30g of chickpeas. Cover with paprika and a dash of olive oil. Set aside as garnish.
Place the tahini, oil, juice, garlic and salt and pepper in a blender. Blend well.
Add in the chickpeas and pulse roughly. Transfer to a serving dish.
Garnish with the paprika covered chickpeas. Drizzle oil over.
Serve with bread or whatever takes your fancy.