Mouth-watering Seitan roast with wheat gluten, butter beans, smoked paprika, thyme, garlic, onion and chia seeds.
Thrust into something warm and succulent. And, gasp.
This dish will obliterate any belief that vegan food can't be super nourishing.
Make this:
When fancy a Sunday Roast alternative that will quench your appetite as you sit round the dining table with the family
When you've got a rocking dinner party for bestie and mates and need a lush Roast to satiate their hungry bellies
When you've the urge to dive into a super lush Roast having taken a long hike on a cold day
Seitan roast was inspired when experimenting with wheat gluten to create a vegan alternative style roast packed with flavour and nourishment.
Seitan homemade– sometimes we just need a little confidence. This back-to-basics recipe is my own take and is incredibly simple to put together. For me, making great seitan is about allowing the dough to rest and ensure it has plenty of moisture while baking.
Seitan roast is vegan.
What equipment to use
For this recipe, I suggest:
High speed blender
Food processor
Oven
What to do next
Tag me on @ethiveganquantum on Instagram to show me what you've made and let me know you're happy for me to share.
My recipes are featured in vegan speciality publications: Nourished, Vegan Life, Plant Based and Vegan, Food and Living.
Order my first self-published book, "Essence: The Beginner's Guide to Veganism" part of the three-part Circle of Food series. My second book "Presence: The Ascending Vegan" – which explores how to maintain a vegan practice is out in 2027 – I have compiled all the chapters including recipes.
Going strong since 2013.
Love.
Edward x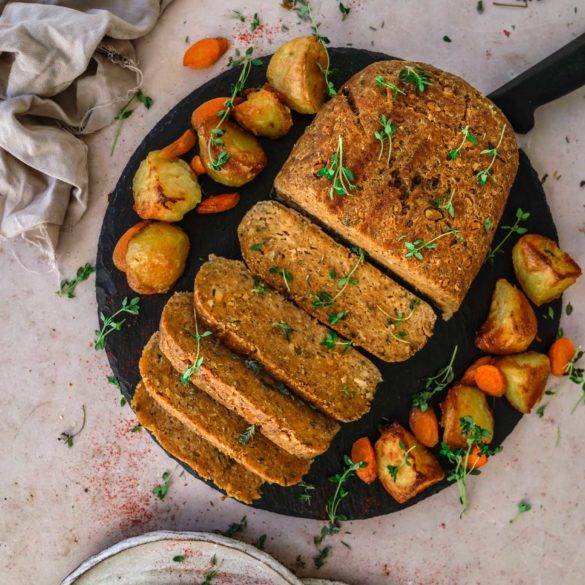 Ingredients
For the seitan roast:

190g vital wheat gluten

20g nutritional yeast

150g butter beans, dried

1tsp smoked paprika

1tsp garlic powder

1tsp onion powder

1tsp thyme, dried

1tbs chia seeds

½ tsp salt

1tsp soy sauce

2tbs olive oil

1tsp tahini

200ml retained bean water

Olive oil for lining and basting
Instructions
Soak the butter beans in filtered water overnight. Pressure cook the beans in adequate water for 30 minutes. Drain the beans and retain the water for later
Place the beans in a food processor and blend until smooth. Set to one side.
In a high-speed blender whizz the chia seeds until fine.  Add to a large mixing bowl, and combine with the wheat gluten, nutritional yeast, paprika, onion and garlic powders, thyme and salt.
Combine in the beans into the mixture.  Add in the retained water, olive oil, soy sauce and tahini too. Use a spatula initially and then hands.  Combine in the wheat gluten and knead the dough until it is soft, fluffy and airy. Form into a rectangle and lie in cling film. Set to one side for a couple of hours.
Preheat the oven to 180 degrees Celsius or with a convention oven to 160 degrees Celsius.
Using a rolling pin, gently roll out the seitan in the cling film.
Place the seitan loosely in aluminium foil and place in a large baking tray half filled with water. Ensure that the seitan is not directly interact with the water. The steam from roasting should ensure that the seitan remains moist.
Roast the seitan in the oven for about an hour.
Remove the seitan from the oven and line the inside of the aluminium foil with olive oil. Baste the seitan with oil all over using a pastry brush.
Return to the oven for a further 30 minutes. Top up the oven proof dish with more water. Ensure that the seitan remains loosely wrapped in foil.
Switch the oven off and allow the seitan to rest in the oven for about 15 minutes.
Serve warm or at room temperature. Gravy might be nice if served as a roast or use the seitan as the basis for other recipes.