Bitter rocket and piquant caperberries sprinkled onto a pepper sauce over a teff millet pastry; Rocket and Caperberry Pizza.
Buckle down and bite into something soft and mouth-watering.
This dish will topple your belief that vegan food can be so incredibly easy to make.
Make this:
When you're wanting the kids to join in some simple baking and to enjoy the fruits of their labours afterwards
When you've just watched the rugby and need a pizza to quench your hunger pangs
When you've got the lads over for boardgames night and need a lush dish to go with the bevvies
Rocket and Caperberry Pizza was inspired when travelling Rome with my parents. As we frequented the local Italian deli we happened upon some caperberries. Having a love for rocket/arugula already, I wanted a contrast with the lush sharp zesty taste of caperberries.3
Rocket/arugala is a light peppery salad often used in Italian cuisine.
Rocket and Caperberry Pizza is Italian cuisine, vegan and gluten-free.
What to do next
Tag me on @ethiveganquantum on Instagram to show me what you've made and let me know you're happy for me to share.
My recipes are featured in vegan speciality publications: Nourished, Vegan Life, Plant Based and Vegan, Food and Living.
Order my first self-published book, "Essence: The Beginner's Guide to Veganism" part of the three-part Circle of Food series. My second book "Presence: The Ascending Vegan" – which explores how to maintain a vegan practice is out in 2027 – I have compiled all the chapters including recipes.
Going strong since 2013.
Love.
Edward x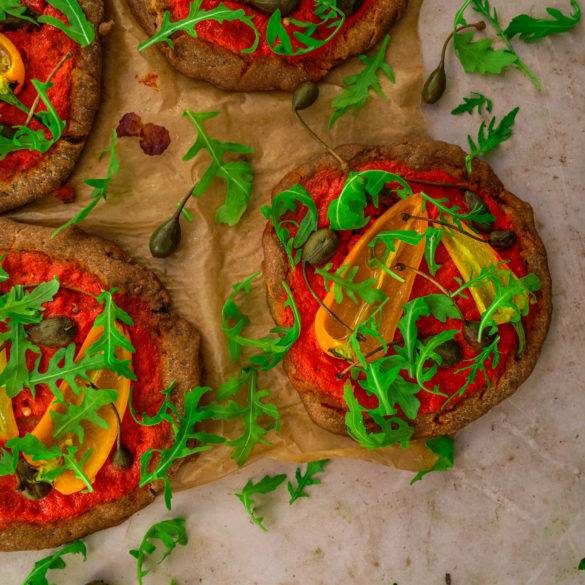 Ingredients
For pizza base

200ml filtered water

1tsp dry yeast

1tsp raw unrefined cane sugar

100g millet

100g teff flour

50g tapioca flour

15g oats

10g flaxseeds

1tsp xanthan gum

Pinch of salt

25ml olive oil

For topping

200g roasted red peppers, charred black skin taken off (or use ready-made jar, if pushed for time)

1tbs pomegranate molasses

1 clove of garlic

Pinch of salt

80g caperberries

50g rocket salad
Instructions
Place lukewarm water into a large mixing bowl. Add in the sugar and yeast and set to one side for about 20 minutes.
In a high-speed food processor ground the millet, oats and flaxseeds. Transfer to the fermenting yeast mixture. Add in the teff and tapioca flours, xanthan gum and salt.  Use a spatula to form a dough. Cover and set to one side for 20 minutes.
Either divide the dough into 4 equally weighed measures or make your own large pizza. Using the palm of your hands, roll into a ball and then pat into circle(s). Pour olive oil over the pizza dough and knead into the dough. Set to one side for an hour.
Preheat oven to 180 degrees Celsius or if a convection oven to. 160 degrees Celsius.
In a food processor mix together the red peppers, garlic and salt until smooth. Transfer to a bowl and set to one side.
Using a pastry brush, line a baking tray with parchment and then olive oil on top.
Pour the pepper sauce over the risen dough. Use a pastry spatula to smooth over into the centre of the dough. Drizzle over the caperberries.
Bake in the oven for 20 minutes.
Remove from the oven and sprinkle over the rocket. Serve immediately.