Saag Aloo is one of my favourite home-grown dishes.  My father probably makes the best but then I am biased to my dad's cooking and inspiration.  What I love about saag is that it lends to use spring greens, mustard leaves and spinach.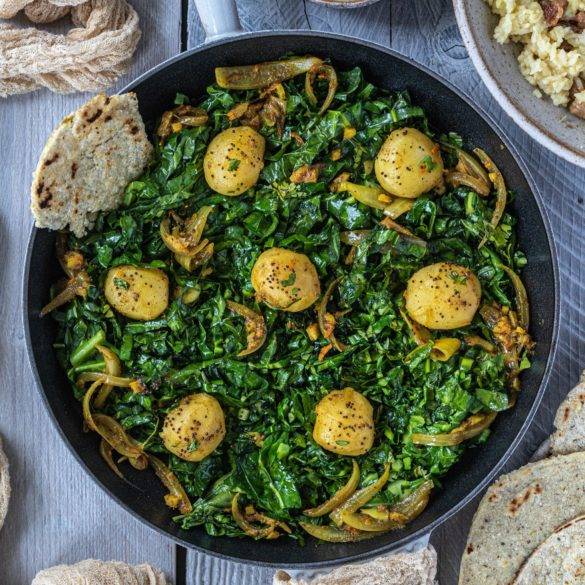 Ingredients
400g potatoes (plus 300ml retained filtered water)
1 onion
3tbs olive oil
½ inch turmeric, peeled and grated
½ ginger root, peeled and grated  
1 clove of garlic
1tsb garam marsala (see here for recipe - https://www.ethivegan.com/recipe-garam-marsala-vegan-glutenfree-paleo/)
250g spring greens, finely sliced
1tsb mustard seeds
Instructions
Boil the potatoes in filtered water until cooked. Drain and retain liquid.
Sweat the onion in olive oil in a wok or skillet. when translucent add in the turmeric, ginger, garlic and garam marsala and about 50ml of the retained water. Cook over for three or four minutes.  Add in the potatoes and coat with the marsala.  Stir regularly. Add in the remaining water. Cook for a further 10 minutes.
Add in the spring greens and mustard seeds and cook until the greens have wilted. Stir continuously.
Serve warm with rice or Makki Ki Roti (which is the Indian equivalent to corn tortillas).