Saffron Poached Pears are just one of those elegant dishes. So simple to make and yet there is a finesse to this stunning dish. Great for dinner parties. I love the sweet syrup which is pure indulgence.
What to do next
Tag me on @ethiveganquantum on Instagram to show me what you've made and let me know you're happy for me to share.
My recipes are featured in vegan speciality publications: Nourished, Vegan Life, Plant Based and Vegan, Food and Living.
Order my first self-published book, "Essence: The Beginner's Guide to Veganism" part of the three-part Circle of Food series. My second book "Presence: The Ascending Vegan" – which explores how to maintain a vegan practice is out in 2027 – I have compiled all the chapters including recipes.
Going strong since 2013.
Love.
Edward x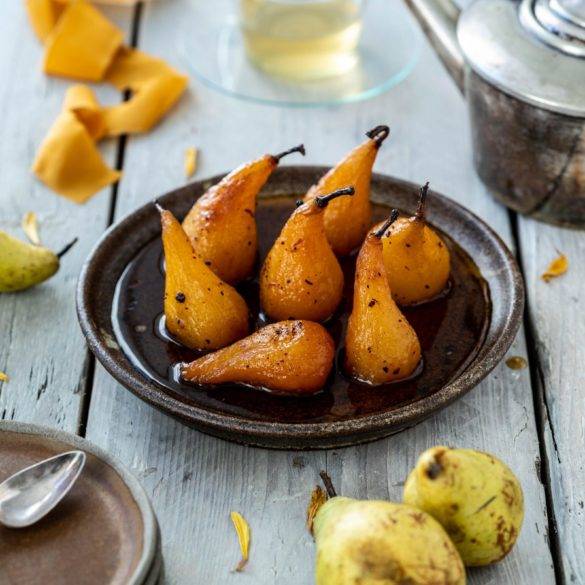 Ingredients
7 pears, peeled
1 litre filtered water
300g raw unrefined sugar cane
7 or 8 saffron threads
2 Star anise, ground
Pinch of salt
Instructions
Melt the sugar with the saffron in water in a medium pan. Bring to the boil and simmer for about 30 minutes.
Add in the Star anise, salt and peeled pears. Bring to the boil and simmer for about 1 hour, partly covered. Keep turning as necessary.
Serve warm or cold, with yogurt.