Saffron Poached Pears are just one of those elegant dishes. So simple to make and yet there is a finesse to this stunning dish. Great for dinner parties. I love the sweet syrup which is pure indulgence.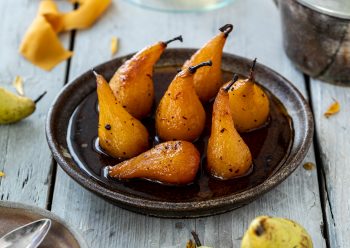 Ingredients
7 pears, peeled
1 litre filtered water
300g raw unrefined sugar cane
7 or 8 saffron threads
2 Star anise, ground
Pinch of salt
Instructions
Melt the sugar with the saffron in water in a medium pan. Bring to the boil and simmer for about 30 minutes.
Add in the Star anise, salt and peeled pears. Bring to the boil and simmer for about 1 hour, partly covered. Keep turning as necessary.
Serve warm or cold, with yogurt.
Notes
By Edward Daniel, Vegan Chef and Former Chair of The Vegan Society. Contributor to Vegan Life Magazine, Plant Based Magazine, Vegan Food and Living Magazine and OK! Magazine. Speaker and cooking demonstrator at Vegan Life Life Festival London, Mind Body and Spirit Festival London, Veganes Sommerfest Berlin, and Bali Vegan Festival. Author of "Essence: The Beginner's Guide to Veganism".