Plump juicy strawberries smeared over buttery-nutty helm almond cocoa filling spread over a chewy tahini sesame biscuit to form Strawberry Cheesecake.
Get something smooth and creamy into your mouth and enjoy the sensual pleasures that comes with it. And, smoulder.
This dish with topple any belief that vegan food can't be super yummy.
Make this:
When you're on date #2 and your new belle/beau is coming over for dinner and you want to create your own intimate party
When you've got a summer dinner party and want your food look to look effortless, understated yet have that wow factor too
When you've had the week of hell at work and it's the weekend and you want some "me time" indulgence
Strawberry Cheesecake was inspired when attending Raw Fest organised by Lia Sokhi at a campsite in Sunningdale and there were various traders selling an array of scrumptious gorgeous raw cakes and desserts.
Strawberries and cream are a classical quintessential of British summer.  This Strawberry Cheesecake combines lush sweet strawberries with a hemp almond cream filling.
Strawberries are native to North America with early colonists shipping these be little scarlet gems to British and central Europe where they are now cultivated and gained in popularity. With stringy rooting runners, wild strawberries take root quickly.  Wild strawberries can be found in woodland, grassy banks.  They are a great source of Vitamin C too.
Blanched almonds and pistachio nuts, I purchase from a nifty Asian outlet in Hayes.  It has an online presence too which can be found here https://www.sirasonline.co.uk – I love it because it is reasonably priced and tends to be good quality stuff which I use.
Hemp hearts, I get from Earthfare in Glastonbury, an eco-friendly grocer.  You can find Earthfare here
Strawberry Cheesecake is vegan, paleo and raw.
What to do next
Tag me on @ethiveganquantum on Instagram to show me what you've made and let me know you're happy for me to share.
My recipes are featured in vegan speciality publications: Nourished, Vegan Life, Plant Based and Vegan, Food and Living.
Order my first self-published book, "Essence: The Beginner's Guide to Veganism" part of the three-part Circle of Food series. My second book "Presence: The Ascending Vegan" – which explores how to maintain a vegan practice is out in 2027 – I have compiled all the chapters including recipes.
Going strong since 2013.
Love.
Edward x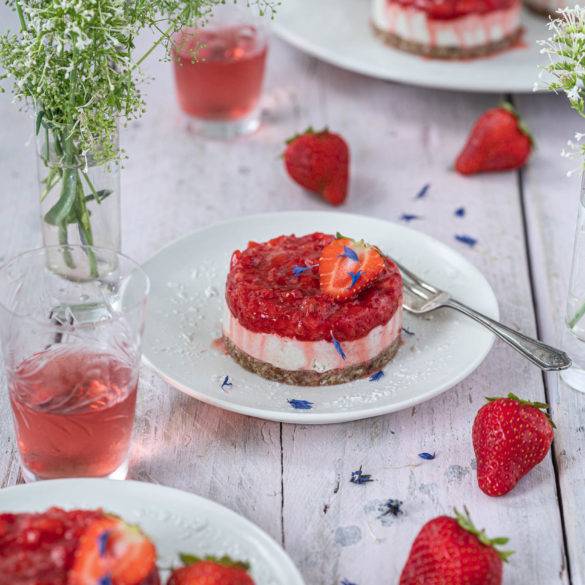 Ingredients
Topping

250g strawberries

30g raw unrefined cane sugar

½ lime, juice

Pinch of salt

Filling

5g Irish Moss

250ml filtered water

100g hemp hearts

100g almonds, blanched

75g xylitol

60g cacao butter

1tsp vanilla extract

½ lime juice

Pinch of salt

For base

100g dates, destoned

25g sultanas

50g coconut desiccated

50g sesame seeds

50g pecans

1tsp tahini paste
Instructions
Make the filling by soaking the Irish Moss in 150ml water and set aside overnight. Soak the almonds in the remaining 100ml water and set aside overnight too.
In a high-speed food processor mix together the dates, sultanas, coconut, sesame seeds, pecans and tahini until the mixture starts sticking together
Place the tart shells on top of acetate paper on a baking tray. Cut the acetate paper so that it can go round the edge of the tart shells. If you don't have tart shells, use a cake tin with a loose bottom – which line with parchment paper and parchment paper round the sides.
Use your hands and pat to form a biscuit. Repeat with each tart shell. Refrigerate for a couple of hours.
In a high-speed blender and blend the hemp, almonds and xylitol until fine. Add in the Irish Moss. Continue to blend.
Melt the cacao butter over a bain-marie (i.e. in a glass bowl over a saucepan full of water) until the butter melts. Pour into the blender with the hemp filling.
Add in the coconut oil, vanilla extract, juice and salt. Combine.
Transfer the filling into a large mixing bowl and then spoon the filling on top of the biscuit. Place the cheesecake the freezer for at least a couple of hours.
Make the topping by using a chopper to lightly pulse together the strawberries, sugar, lime juice and salt for a few seconds; you don't want to break up the strawberries into mush. Pour over the cheesecake. Return to the freezer for at least a couple of hours or until ready to serve.
When serving remove the acetate paper (you can reuse the acetate paper again) and serve on some nice plates.