Fennel and Walnut Barley Risotto is another of my warming dishes. This risotto I love for its bigheartedness and wholesomeness. I love the crunchy taste of the barley and walnuts.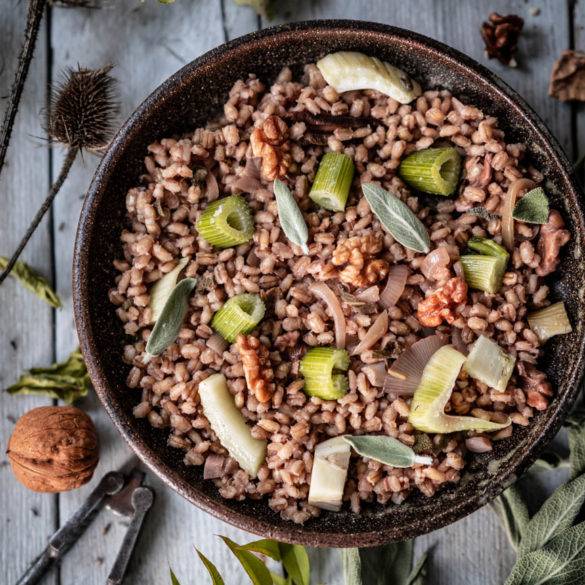 Ingredients
10g of dried porcini mushrooms
600 litres hot filtered water
1 shallot chopped
2 garlic cloves, chopped
2 tbsp olive oil
250g pearl barley
350ml dry white wine
200g chestnuts, pre-cooked
1 fennel
25g walnuts
a few sprigs of sage, chopped
extra virgin olive oil for drizzling
salt and black pepper to taste
Instructions
Soak the porcini mushrooms in 600ml of hot water for about 30 minutes. Set aside the porcini mushrooms. The remaining water can be used as a stock.
Sauté the shallot with the garlic in olive oil until the shallots turn translucent. Stir in the pearl barley and coat in the oil.
Pour in the wine. Stir regularly and simmer over a gentle heat until the liquid is absorbed. Add in the porcini mushrooms
Ladle in the stock with the sprigs of sage. Stir and simmer, until the liquid is absorbed. Continue adding the stock, until the barley is tender but remains crunchy. This process will take about 45 minutes.
10 minutes before the end, add in the chestnut and fennel and continue cooking for the remaining minutes.
When the risotto is almost done, add the walnuts and season with salt and pepper.
Serve warm.