Pamper yourself with a little squash that'll get you geared up for action, later… And, indulge.
Roasted sunburst custard pattypan stuffed with crunchy apple-like water chestnuts and sweet tangy burst goji berries; Stuffed Pattypan with Water Chestnuts and Goji Berries.
This dish will burst your beliefs that vegan food can't be super nutritious.
Make this:
When it's your first anniversary dinner with your belle/beau and you can't believe you've made it this far, and the perfect main course dish that'll get you both slowly building the crescendo into the night sky
When you've got your work peers over for some nosh and need a dish that'll get them re-thinking about their culinary tastes
When Aunt Mav is coming for dinner and you need to astound her with your cooking skills that she'll be begging for the recipe – you know you're in her good books
Stuffed Pattypan with Water Chestnuts and Goji Berries was inspired when shopping in the twee shops of Cambridgeshire and returning to a quaint holiday cottage to rest wary legs, use the agar oven and astound close friends staying too.
Dainty yellowish scallop-shaped pattypan are available early summer from around late June. Pattypan make the perfect one-person sized portions and their creamy flesh abundantly lends itself to complementing other sweet and delicate flavours. They can be found in farmers markets and specialty stores. It's well worth getting them should you find them on your travels.
Water chestnuts enhance this dish. Native to Asia, water chestnuts are available canned in Europe. They're not a nut but an aquatic tuber ordinarily cultivated in freshwater paddy fields.
Goji berries are also native to Asia.  They require cold weather to flourish abundantly and are found in the foothills of the Himalayas.  They are great energy boosters and perfect for improving men's libido and sexual prowess…. – if you know what I mean.
Stuffed Pattypan with Water Chestnuts and Goji Berries is vegan and paleo.
Love.
Edward x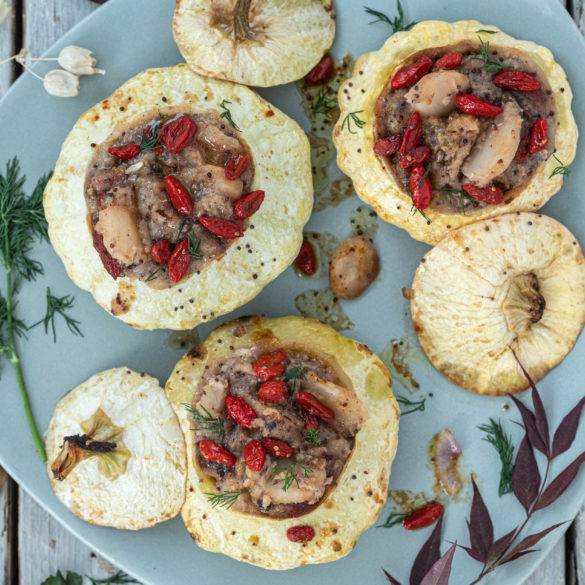 Ingredients
6 pattypan

100ml filtered water

100 water chestnuts

25g goji berries

4tbs olive oil

1tbs date syrup

1tsp sumac

1tsp hemp seeds

1tsp mustard seeds

1 shallot
Instructions
Soak the goji berries in filtered water. Set to one side.
Pre-heat the oven to gas mark 180 degrees Celsius or if you have a fan oven 160 degrees Celsius.
Slice the tops of the pattypan and gently take a knife and scoop out the flesh. Use 2tbs olive oil to coat the outside of the pattypan.
Transfer the flesh into a processor and whizz until mashed. Transfer to a large mixing bowl.
Add in the water chestnuts, syrup, sumac, seeds and shallots. Combine well. Add in 2tbs of oil.
Drain the goji berries but retain the liquid. Add in the goji berries to the mixture.
Use a spoon to transfer the mixture into the cavity of each pattypan. Cover the tops. Drizzle over the remaining oil and the retained goji berry liquid.
Bake in the oven for about 25 minutes.
Serve hot.