Quaff on some soft silky popping appetizer that will make you zing to climax. And, voice.
Burst Redcurrant with fleshy sweet Red Onion lightly cooked with a piquant citrus-like juniper berry clove relish served in a hot fiery cayenne sugary vinegar syrup.
This will crash any belief that vegan food can't be simple to rustle up.
Make this:
When you're in a frenzy with a last-minute dinner party and want canapes that will look and taste the biz
When you're wanting a light snack and can't be bothered to spend more than 5-mins fixing a dish. Serve with vegan cream cheese and hey presto
When you've got a soiree organised and want a dish with plenty of pizzazz
Redcurrant and Red Onion Relish was inspired as a contrast to hot Indian food when younger. And, wanting a contrasting sweet-sour spicy condiment.
Incredibly easy to put together and have in reserve in the fridge until the right moment pops up.
Redcurrant and Red Onion Relish is a condiment, vegan and paleo.
Love.
Edward x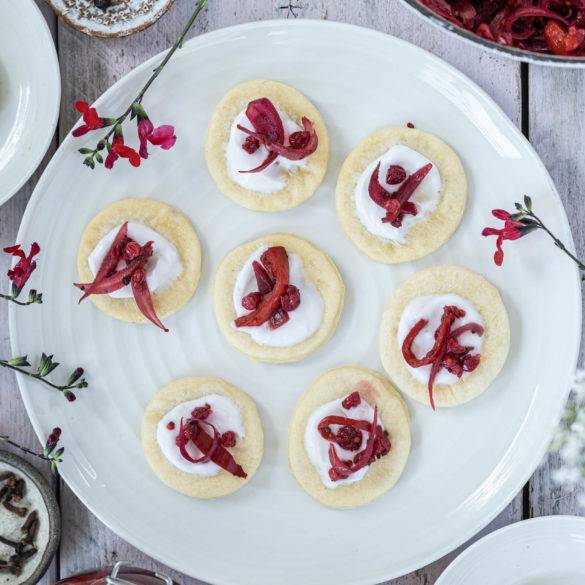 Ingredients
250g redcurrants

2 red onions, sliced

1 red pepper, sliced

75g raw unrefined cane sugar

½ tsp cloves

½ tsp allspice

Pinch of cayenne

150ml red wine vinegar

3 juniper berries
Instructions
Ground the cloves and allspice. Crush the juniper berries but ensuring they remain in one piece.
Thinly slice the onions and place in a sauce pan with the sliced pepper, sugar, spices, vinegar and juniper berries. Bring to the boil and then simmer over a low heat for about 15 minutes.
When the onions and pepper have softened, add in the redcurrants and continue cooking for a further 5 minutes.
Switch off the heat and place into sterilised jars.
Keep sealed in the fridge for up to six weeks.