Get your tongue round something crispy and warm. And, roll.
Crispy tart Sumac and citrus Thyme Polenta Chips with piquant garlic seasoned with salt and pepper and air fried to perfection.
This dish will burst any belief that vegan can't be simple to make up.
Make this:
When you're fed up with potato chips and looking for a tanalising alternative that'll get you heart palpitating
When you've just return from a gym and need a good dose of healthy carbohydrates to zen you back up
When you've got your best friend for a spritzer and need a moreish side dish to serve with it
Sumac and Thyme Polenta Chips was inspired when being served polenta chips at one of the leading veggie restaurants and thinking I could create my own version.
Polenta chips are really simple to make and a wonderful alternative to potato chips.
Polenta is a golden-yellow Italian cornmeal made from dried, ground maize (corn). Polanta is good for cardiovascular health and has complex carbohydrates meaning they are gradually broken down, balancing blood sugar levels and sustaining energy levels throughout the day.
Sumac and Thyme Polenta Chips is vegan.
Love.
Edward x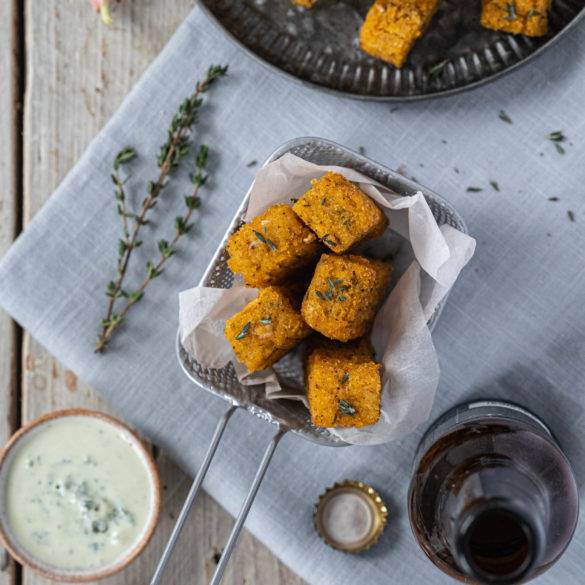 Ingredients
750ml vegetable stock (made with filtered water)

300g instant organic polenta (cornmeal)

2 cloves garlic, minced

2 tsp sumac

2 tsp chopped fresh thyme

½tsp salt

pepper

olive oil
Instructions
Bring the stock to boil in a large saucepan. Reduce in heat.
Add the garlic, sumac, thyme, salt and pepper. Stir.
Then gradually add the polenta. Use a balloon whisk to constantly stir until all the polenta is incorporated into the stock.
Reduce to a medium heat and stir with a wooden spoon for about two minutes. The mixture should thicken and the polenta should soften. Remove from the heat.
Brush a large baking tray with olive oil and cover the baking sheet.
Pour the polenta evenly over the base of the baking tray and use a back of a spatula to smooth over. Cover with another baking sheet.
Place the polenta in a refrigerator overnight and leave to set.
Turn the polenta over onto a clean work surface. Peel off the baking sheet. Cut the polenta lengthways into 2cm strips and 8cm long pieces.
If you are using an air-fryer, using hands, I quickly soak the polenta chips in olive oil in a large bowl and then place in the air-fryer at 180 degrees for about 12 minutes. Alternatively, you can deep-fry in oil for about 4 to 5 minutes until golden brown.