Isn't it time to melt…? Melt into a little Summer Pudding? Summer Pudding is another one of those traditional British dishes. I love this dish because of its simplicity and elegance. I love too how the fruit with the wine has a sweet and yet tart flavour. The wine, maple and cinnamon really bring out the fruit.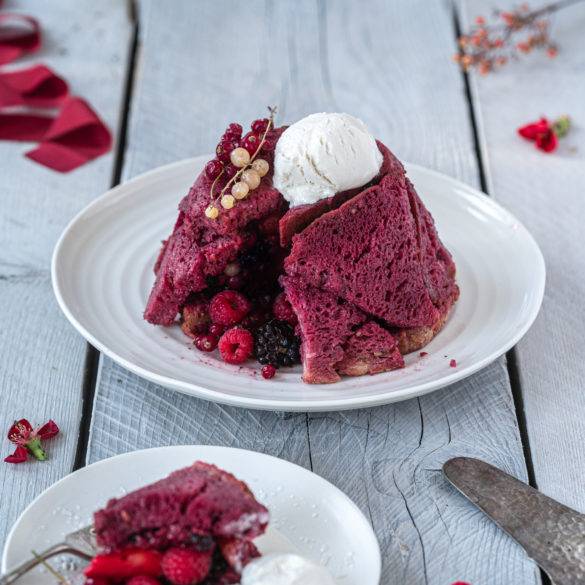 Ingredients
500g mixed berries (redcurrants, raspberries, blackberries, strawberries) (fresh or frozen)
150ml red wine
½ inch cinnamon stick, ground
4tbs maple syrup
250g multigrain bread, sliced
Instructions
Simmer in a pan at low heat the redcurrants and strawberries with the wine, cinnamon and maple syrup for 3 to 4 minutes. Switch off the heat and toss in the raspberries and blackberries.
Use a sieve to drain the fruit. Place the syrup into a bowl.  Set the fruit to one side.
Cut the bread into triangles. Dip the bread into the syrup and line the bread in a half-litre pudding bowl. Ensure you set aside enough bread to one side to form a lid.
Spoon the fruit into the cavity of the bowl. Be gentle in pressing down, ensuring the fruit does not squash. Line the remaining bread on top to form a lid.
Cover the bowl with cling film and then a plate. Lay weights on top of the plate and chill overnight.
When ready turn the bowl over to remove the Summer Pudding.
Serve with ice-cream.