Summer Pudding with lashings of tangy burst redcurrants, raspberries, blackberries and strawberries in wine infused with earthy cinnamon.
Isn't it time to melt…? And, quiver.
This dish will topple your belief that vegan food could be incredibly easy to put together.
Make this:
When the summer fruit is out and a dish with a little alcohol and cinnamon to get your tastebuds going to frenzy is needed
When you've just had a game of tennis and fancy lounging back with a nice slice of Summer Pudding as you put those tired legs up
When you've just had a forage at the local "pick you own" fruit farm and bursting with your new found berries freshly salvaged and you're hunting for a dish to satiate your appetite
Summer Pudding was inspired when picking berries at a friend's allotment full of super wholesome freshly grown fruit bursting with flavours.
Melt into a little Summer Pudding? Summer Pudding is another one of those traditional British dishes. I love this dish because of its simplicity and elegance. I love too how the fruit with the wine has a sweet and yet tart flavour. The wine, maple and cinnamon really bring out the fruit.
Summer Pudding is vegan.
What to do next
Tag me on @ethiveganquantum on Instagram to show me what you've made and let me know you're happy for me to share.
My recipes are featured in vegan speciality publications: Nourished, Vegan Life, Plant Based and Vegan, Food and Living.
Order my first self-published book, "Essence: The Beginner's Guide to Veganism" part of the three-part Circle of Food series. My second book "Presence: The Ascending Vegan" – which explores how to maintain a vegan practice is out in 2027 – I have compiled all the chapters including recipes.
Going strong since 2013.
Love.
Edward x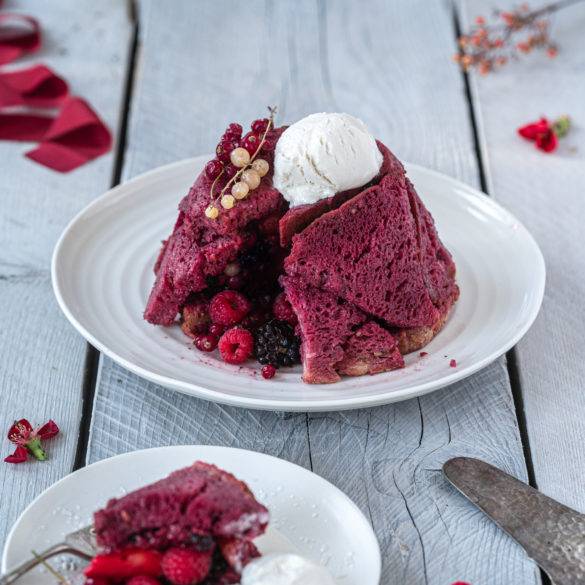 Ingredients
500g mixed berries (redcurrants, raspberries, blackberries, strawberries) (fresh or frozen)

150ml red wine

½ inch cinnamon stick, ground

4tbs maple syrup

250g multigrain bread, sliced
Instructions
Simmer in a pan at low heat the redcurrants and strawberries with the wine, cinnamon and maple syrup for 3 to 4 minutes. Switch off the heat and toss in the raspberries and blackberries.
Use a sieve to drain the fruit. Place the syrup into a bowl.  Set the fruit to one side.
Cut the bread into triangles. Dip the bread into the syrup and line the bread in a half-litre pudding bowl. Ensure you set aside enough bread to one side to form a lid.
Spoon the fruit into the cavity of the bowl. Be gentle in pressing down, ensuring the fruit does not squash. Line the remaining bread on top to form a lid.
Cover the bowl with cling film and then a plate. Lay weights on top of the plate and chill overnight.
When ready turn the bowl over to remove the Summer Pudding.
Serve with ice-cream.