Earthy sweet nutty Pistachio Kulfi with creamed coconut, coconut milk and infused with citrus cardamon and refreshing rose water.
Suck on a melting lolly. And, indulge.
This dish will burst your belief that vegan food can't be simple to make with a few choice ingredients.
Make this:
When you've a kiddie's play day and a sumptuous dish that'll have them eagerly enthused will make their day
When you've got mates over for a barbecue and yummy lolly will help you all cool down
When it's super-hot outside and the air conditioning unit has stopped working and you can't be fagged to make anything complex and naffed to go to the shops
Pistachio Kulfi reminds me of my youth, going to Indian dessert shops and picking wonderful sweets to savour.
Kulfi is a traditional Indian frozen dessert, often found sold by street vendors, known as kulfiwallahs. It's a dense rich whipped ice cream, that's slightly grainy too.  What I love about this dish is the pistachio, cardamon and rose wate give it an Eastern twang to traditional Western ice creams.
I use Kulfi pots but there is no reason to use moulds in differing shapes.
Pistachio Kulfi is vegan, raw and paleo.
What to do next
Tag me on @ethiveganquantum on Instagram to show me what you've made and let me know you're happy for me to share.
My recipes are featured in vegan speciality publications: Nourished, Vegan Life, Plant Based and Vegan, Food and Living.
Order my first self-published book, "Essence: The Beginner's Guide to Veganism" part of the three-part Circle of Food series. My second book "Presence: The Ascending Vegan" – which explores how to maintain a vegan practice is out in 2027 – I have compiled all the chapters including recipes.
Going strong since 2013.
Love.
Edward x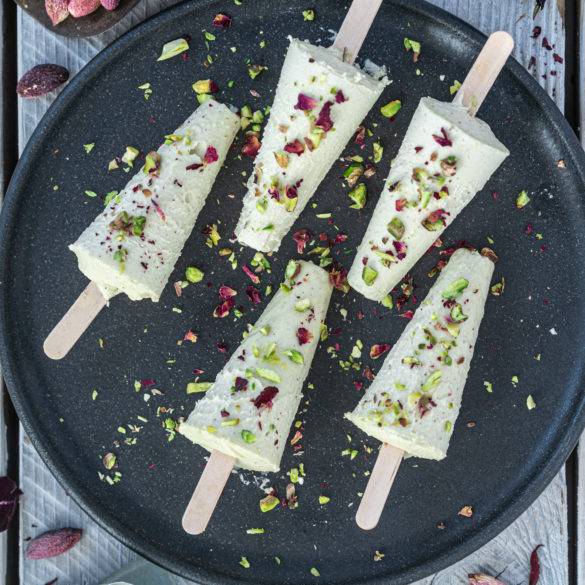 Ingredients
400ml coconut milk

200g creamed coconut

50g pistachios

100g raw unrefined cane sugar

4 cardamon pods, seeds

1tsp rose water
Instructions
If the creamed coconut comes in a plastic bag, place in hot water to loosen.
Place all the ingredients in a high-speed blender and blend till fine.
Transfer all ingredients to an ice cream maker and leave mixing for about 45 minutes.
Spoon the kulfi into the kulfi pots and place an ice cream stick in the centre. Stack the kulfi upright and place in a freezer until frozen.
When ready to serve, get some hot water around the outside of the pots to loosen the kulfi and serve immediately.
As an optional twist, garnish with some chopped pistachios and rose petals.