Pistachio Kulfi reminds me of my youth, going to Indian dessert shops and picking wonderful sweets to savour.  This ice cream is easy to put together and is wonderful on a hot sunny day. I use Kulfi pots but there is no reason to use moulds in differing shapes.  What I love about this dish is the pistachio, cardamon and rose water which give it an Eastern twang to traditional Western ice creams.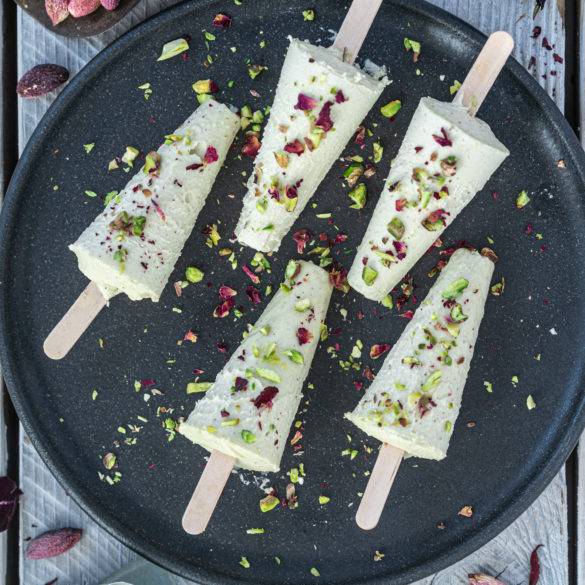 Ingredients
400ml coconut milk
200g creamed coconut
50g pistachios
100g raw unrefined cane sugar
4 cardamon pods, seeds
1tsp rose water
Instructions
If the creamed coconut comes in a plastic bag, place in hot water to loosen.
Place all the ingredients in a high-speed blender and blend till fine.
Transfer all ingredients to an ice cream maker and leave mixing for about 45 minutes.
Spoon the kulfi into the kulfi pots and place an ice cream stick in the centre. Stack the kulfi upright and place in a freezer until frozen.
When ready to serve, get some hot water around the outside of the pots to loosen the kulfi and serve immediately.
As an optional twist, garnish with some chopped pistachios and rose petals.