Tamarind Brown Lentils was inspired by a Trinidadian friend of mine. What I love about this dish is the musky flavour of the tamarind melded with the sweet caramelised onion.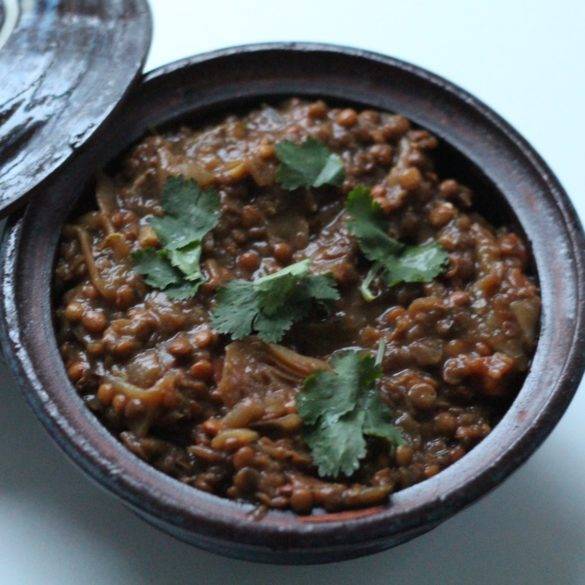 Ingredients
200g brown lentils
5 tbs extra virgin olive oil
1kg onions
1litre water
3 medium sized tomatoes, quartered
½ ginger, chopped
3 cloves of garlic, sliced
Fresh tamarind, 2 inches
2tsp oregano
small bunch of thyme
1tsb date syrup
small bunch of coriander leaves
Instructions
Soak the lentils in fresh water and set to one side.
In a pan, add the olive oil with onions and cook over a medium heat until the onions turn brown and caramelise.
Add the brown lentils, water, tomatoes, ginger, garlic, tamarind, oregano and thyme and bring to the boil. Reduce to a medium heat and cook for about 20 minutes.
Top tip – I use fresh tamarind but make sure that you remove the hard shells of any seeds, otherwise you may accidentally bite into one...
Season with the date syrup. Cook for a further three to four minutes.
Switch off the heat. Remove the stems of the thyme and discard. Add the fresh coriander and serve.
Notes
By Edward Daniel, Vegan Chef and Former Chair of The Vegan Society. Contributor to Vegan Life Magazine, Plant Based Magazine, Vegan Food and Living Magazine and OK! Magazine. Speaker and cooking demonstrator at Vegan Life Life Festival London, Mind Body and Spirit Festival London, Veganes Sommerfest Berlin, and Bali Vegan Festival. Author of "Essence: The Beginner's Guide to Veganism".