Tamarind Brown Lentils was inspired by a Trinidadian friend of mine. What I love about this dish is the musky flavour of the tamarind melded with the sweet caramelised onion.
What to do next
Tag me on @ethiveganquantum on Instagram to show me what you've made and let me know you're happy for me to share.
My recipes are featured in vegan speciality publications: Nourished, Vegan Life, Plant Based and Vegan, Food and Living.
Order my first self-published book, "Essence: The Beginner's Guide to Veganism" part of the three-part Circle of Food series. My second book "Presence: The Ascending Vegan" – which explores how to maintain a vegan practice is out in 2027 – I have compiled all the chapters including recipes.
Going strong since 2013.
Love.
Edward x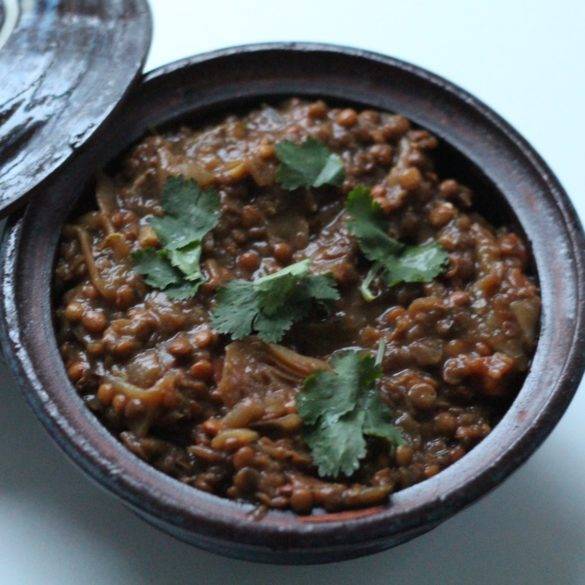 Ingredients
200g brown lentils
5 tbs extra virgin olive oil
1kg onions
1litre water
3 medium sized tomatoes, quartered
½ ginger, chopped
3 cloves of garlic, sliced
Fresh tamarind, 2 inches
2tsp oregano
small bunch of thyme
1tsb date syrup
small bunch of coriander leaves
Instructions
Soak the lentils in fresh water and set to one side.
In a pan, add the olive oil with onions and cook over a medium heat until the onions turn brown and caramelise.
Add the brown lentils, water, tomatoes, ginger, garlic, tamarind, oregano and thyme and bring to the boil. Reduce to a medium heat and cook for about 20 minutes.
Top tip – I use fresh tamarind but make sure that you remove the hard shells of any seeds, otherwise you may accidentally bite into one...
Season with the date syrup. Cook for a further three to four minutes.
Switch off the heat. Remove the stems of the thyme and discard. Add the fresh coriander and serve.