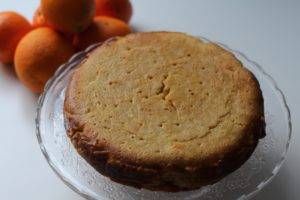 Bolo de Laranja – Orange Cake with Quinoa
Bolo de Laranja, otherwise orange cake is a typical dish serve in Portugal. This recipe uses quinoa to add texture to it and fresh yeast.
Cuisine:
Vegan, Vegetarian
Ingredients
100ml oat milk
16g fresh yeast
380g-castor sugar
¼ tsp salt
70g white quinoa
200ml water
390g self raising flour
200g extra virgin olive oil
50g vegetable shortening
3 oranges
zest of orange
Instructions
Gently heat the oat milk over a low heat until it is lukewarm. Place into a bowl with one tablespoon of the measured castor sugar, and the fresh yeast. Leave aside for 20 minutes.
Preheat oven to 180 degrees Celsius.
Rinse the quinoa and cover with water. Bring to the boil and simmer for about 15 minutes. The quinoa is cooked once the grains have swelled. Set to one side.
Line 9 inch (22cm) round tin firstly with dairy free butter and then line with baking paper.
In a mixer, place the remaining sugar, flour, oil, orange zest, salt and whizz until well combined.
Take two oranges and place in blender. Then add to the mixer.
Top tip – take the orange remove as much of the pith as possible but do not over worry if this proves difficult. Though, the pith tends to be bitter, it is equally nutritious as the fruit itself.
Add the oat milk mixture, and swelled quinoa to the mixer and whizz until well integrated.
Fold the orange dough into the round tin and bake the orange cake in the oven for about 40 minutes. Place aluminum foil on top of the cake so that the cake does not burn.
When the cake is almost done, and the skewer comes out almost clean, prick the entire cake with holes. Take the freshly squeezed an orange and drizzle over the cake. Return the cake to the oven and bake for a further 5 minutes.
Remove from the oven and allow the cake to cool for about 30 minutes before gently removing the cake and placing it on a serving dish.
Serve cold.
_____________________________________________________
EthiVegan by Edward Daniel