Guzzle down something pillowy and lush.
Gently griddled, light fluffy Teff Pancakes laced with citrus lemon and nourishing ground flaxseeds and oats.
This dish will overthrow your belief that vegan food can't be simple to make.
Make this:
When you've been languishing in bed and need a little pick me brekkie to set you on your day
When you've got famished kiddies for sleepover with your children and you've got some hungry mouths to feed
When you've just had a hard day's work and something simple and light for supper will do nicely
Teff Pancakes was inspired when I'd attended a canape function and was impressed with the gluten mini-pancakes with dukkah and was determined to make my own version.
Teff Pancakes is vegan and gluten-free.
Love.
Edward x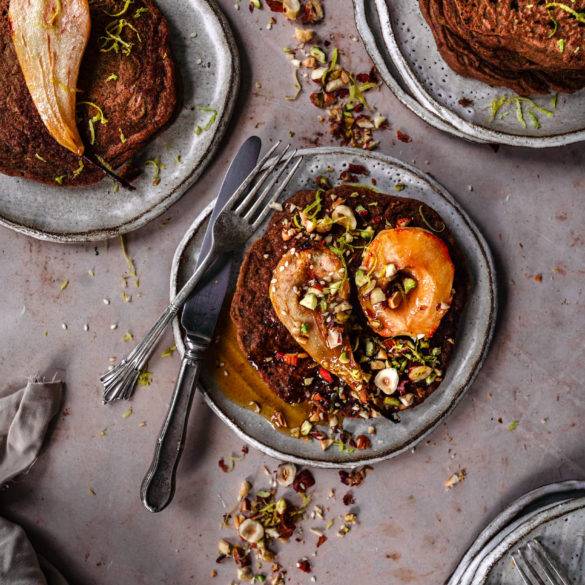 Ingredients
Pancakes

200g teff flour

350ml filtered water

30g flaxseeds

30g oats

25g raw unrefined cane sugar

Pinch of salt

½ lemon, juice

1 tsp baking soda

Oil for frying
Instructions
In a high-speed blender, blend the flaxseeds, oats sugar and salt until fine.
Transfer to a mixing bowl with the baking soda.
Pour in the water. Combine well with a spatula.
Pour in the lemon juice. The batter should become airy. Set to one side for 10 minutes.
 Gently heat a griddle pan. When the pan is hot, add the oil. Let the oil sizzle and then add a couple of spoonsful of batter. Use the back of a spoon or icing spatula to smooth over.  Cook on either side for a couple of minutes until the. underside hardens. Use a spatula to flip over. Transfer onto a plate.
Serve warm.T3e