Bite into something soft and gooey.
Oozing smelted cheese and an olive oil tomato sauce on a pillowy teff millet pastry base; Margherita Pizza.
This dish will tumble your belief that vegan food can't be super yummy.
Make this:
When you've got a games night on with the lads and need a quick and dirty mouth-watering dish that'll have you satiated as you make your next move
When you're entertaining the kids with a fun baking activity that'll have them whistling for joy and gratified with the fruit of their labours
When you've got a craving for a simple dish as you put on your favourite movie to watch
Margherita Pizza was inspired when attending a pizzeria at the Echo Building in Hackney Wick. As my friends sat out in the blistering cold we munched on a simple vegan Margherita Pizza as we soaked down our drinks.
Margherita Pizza is a vegan and gluten-free.
Love.
Edward x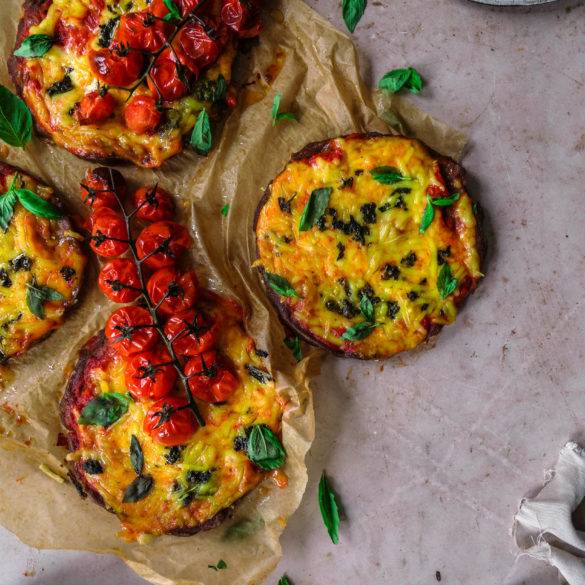 Ingredients
For pastry

200ml filtered water

1tsp dry yeast

1tsp raw unrefined cane sugar

100g millet

100g teff flour

50g tapioca flour

15g oats

10g flaxseeds

1tsp xanthan gum

Pinch of salt

25ml olive oil

For tomato sauce

400ml plum tomatoes (use tin if time is limited)

25g olive oil

Pinch of salt

Few sprigs of basil for garnishing too
Instructions
In a large mixing bowl, place yeast and sugar in lukewarm water. Set to one side for 20 minutes.
Line a baking tray with parchment dough and pour the olive oil on top.
In a high-food processor grind the millet, oats and flaxseeds. Add to the mixing bowl with the xanthan gum and salt. Use a spatula to form into a dough.
Weigh and divide the dough into four or just make a large pizza. Roll into a ball with the palm of your hands. And transfer to the baking dough. Use your hands to form the dough into a circle.
Leave the dough to rise for about an hour.
Preheat the oven to 180 degrees Celsius or if a convection oven to 160 degrees Celsius.
Make the tomato sauce by chopping the tomatoes and add in the olive oil and salt. Use a spoon to smooth onto the dough base.
Use a knife or chopper to chop the basil and sprinkle onto the tomato base. Retain some basil for serving.
Sprinkle on the cheese.
Bake in the oven for 20 minutes.
Serve immediately, garnishing with basil leaves.