Tomato and orange have always been my favourites – so, it is wonderful to be able to combine both ingredients into this light soup.  What I love is how the sherry vinegar lifts this dish to new heights.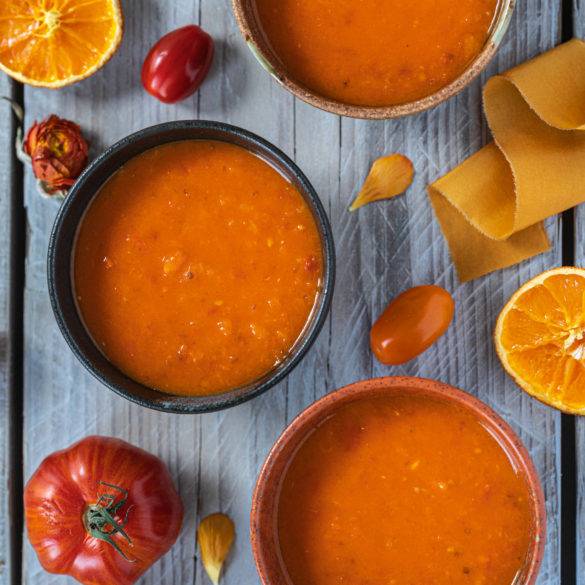 Ingredients
2 medium onions
3tsb extra virgin olive oil
1kg tomatoes
500ml filtered water
Orange, juice, and half inch slither of zest
1tsp sherry vinegar
Instructions
In a large pan, sauté the onion in olive oil. Cook the onions turn translucent.
Add the tomato, water and zest. Cook on a low heat for about 15 minutes.
Turn off the heat and remove zest. Whizz with a blender or place in batches in a liquidiser.
Add the orange juice and sherry vinegar. Season to taste.
Serve.
Notes
By Edward Daniel, Vegan Chef and Former Chair of The Vegan Society. Contributor to Vegan Life Magazine, Plant Based Magazine, Vegan Food and Living Magazine and OK! Magazine. Speaker and cooking demonstrator at Vegan Life Life Festival London, Mind Body and Spirit Festival London, Veganes Sommerfest Berlin, and Bali Vegan Festival. Author of "Essence: The Beginner's Guide to Veganism".