Vegan Chilli Con Carne with heart kidney beans and buttery walnuts, flavoured with smoked paprika, tamari, oregano, pepper and lemon juice.
Spice up your life with a bit of chilli. And, feel the burn.
Vegan Chilli Con Carne will burst any belief that vegan food can't be super yummy.
Make this:
When you've got the lads night for snooker night and need a nice chilli to go with the bevvies you're serving
When you fancy a movie flick with a chilli to get you all fired up
When you've got a fancy Mexican night organised and need something to go with your tortilla chips
Vegan Chilli Con Carne was inspired from school cafeteria lunches and yapping with friends waiting for the next class to start.
The origins of Chili are varied. One thought is it originated from Bolivia, spread over Latin America. Another, is it came from Canary Islanders making its way to Spain, and Mediterranean spices with cinnamon, allspice, cloves and cocoa being used. This stew uses walnuts to give a nutty buttery taste.
Vegan Chilli Con Carne is vegan, paleo and gluten-free.
What equipment to use
For this recipe, I suggest:
Pressure cooker
Stove
What to do next
Tag me on @ethiveganquantum on Instagram to show me what you've made and let me know you're happy for me to share.
My recipes are featured in vegan speciality publications: Nourished, Vegan Life, Plant Based and Vegan, Food and Living.
Order my first self-published book, "Essence: The Beginner's Guide to Veganism" part of the three-part Circle of Food series. My second book "Presence: The Ascending Vegan" – which explores how to maintain a vegan practice is out in 2027 – I have compiled all the chapters including recipes.
Going strong since 2013.
Love.
Edward x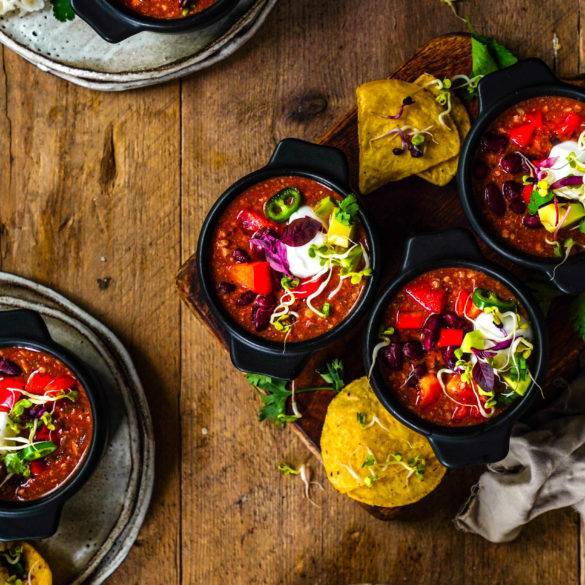 Ingredients
150g red kidney beans

400ml bean liquid

2tbs olive oil

1 onion, finely chopped

175ml wine

1 chilli pepper

2 cloves garlic, crushed

2tsp tomato puree

1tsp smoked paprika

1tbs oregano

1tbs balsamic vinegar

1tbs apple cider vinegar

1tbs tamari

2 bay leaves

400g fresh plum tomatoes

1tsp unrefined raw cane sugar

1tsp tapioca flour

100g walnuts, chopped roughly

Once cooked

1 Pepper, diced

½ lemon, juice

Season to taste
Instructions
Pressure cook the kidney beans for about 30 minutes with sufficient water.
Sauté the onion in oil under a medium heat until the onions turn translucent in a large pan.
Add the bean and retained bean liquid, garlic, tomato puree, chilli, smoked paprika, oregano, balsamic vinegar, apple cider vinegar, bay leaves, tomatoes, and sugar. Bring to the boil and then simmer for 10 minutes.
Sieve in the tapioca flour. And wait for the sauce to thicken.
Add in the walnuts and cook for about 5 minutes more. Switch off the heat.
Add the lemon juice, and Spanish pepper.
Season further for taste or even some tortilla wraps and jalapeno peppers.