Lashings of diced tomatoes topped with basil and garlic, drizzled with olive oil and balsamic vinegar on griddled bread; Tomato Bruschetta.
Dive into something exquisite. And, melt.
This dish will melt any belief vegan food can't rock and be super scrummy.
Make this:
When taste sensations overpower you and you feel like a quick and easy alfresco appetiser
When you've just returned from a hot yoga class, and are bleeding famished from having worked all those joints
When you've got a party that's rocking and need a super nourishing entrée as you swing those hips
Tomato Bruschetta was inspired by attending Italian restaurants and being simply in awe with how simple and wholesome a few lashings of tomato slathered on bread could send me quivering.
Tomato Bruschetta is Italian cuisine and vegan.
What equipment to use
For this recipe, I suggest:
Stove
Griddle
What to do next
Tag me on @ethiveganquantum on Instagram to show me what you've made and let me know you're happy for me to share.
My recipes are featured in vegan speciality publications: Nourished, Vegan Life, Plant Based and Vegan, Food and Living.
Order my first self-published book, "Essence: The Beginner's Guide to Veganism" part of the three-part Circle of Food series. My second book "Presence: The Ascending Vegan" – which explores how to maintain a vegan practice is out in 2027 – I have compiled all the chapters including recipes.
Going strong since 2013.
Love.
Edward x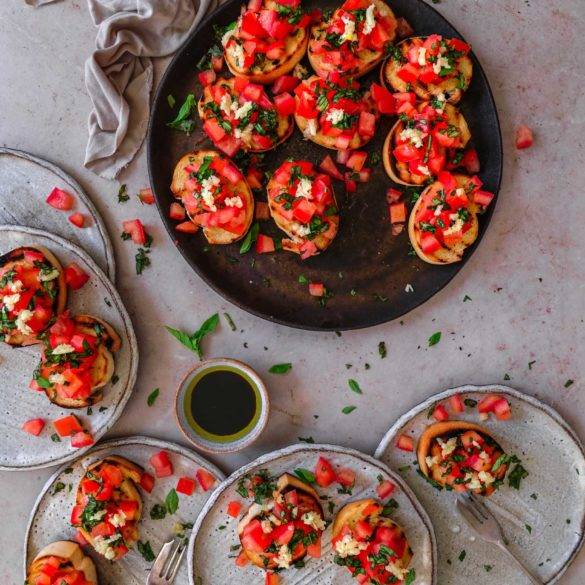 Ingredients
200g rustic Italian bread or baguette

Olive oil for basting

8 ripe plum tomatoes (about 400g)

2tbs extra virgin olive oil

2tbs balsamic vinegar

Garnishing

Few sprigs of Basil

4 cloves of garlic, minced
Instructions
Deseed and core the tomatoes. Retain and dice the outer flesh. Set to one side.
Mince the garlic and set to one side.
Slice the bread. Use a pastry brush to baste a little olive oil (but not too much) on either size. Transfer to a large plate.
Heat griddle and toss the bread on either side for a couple of minutes until the bread gives that charcoaled burned look. Remove and place the bruschetta on a serving plate.
Pour a couple of tablespoons of olive oil and balsamic vinegar into a small bowl. Don't worry about the oil separating from the vinegar.
When ready to serve, scatter the tomatoes on top of bruschetta.
Roughly chop the basil and scatter over the bruschetta with the minced garlic.
Drizzle a little of the oil/vinegar balsamic vinegar on top of the bruschetta as you serve.