A walnut/peanut filling with hints of lemony-peppery thyme in a sundried tomato and onion gravy overloaded with buttery cheesy potato slices; Cottage Pie.
Get your mouth overloaded with a bit of sensual pleasure. And, sensualise.
This dish will tumble any belief that vegan food can't be fulfilling.
Make this:
When you're looking for a good old Sunday lunch treat – something that comfy and feels or so good…
When it's cold outside, you're not tossed about venturing far afield and fancy grub reminiscent of your teenage school days
When you've got mates over for the weekend and want something wholesome before you venture out to the pub for a knees up
Cottage Pie was inspired by school dinners and nostalgia for cafeteria food sitting with class mates discussing the latest shenanigans.
Cottage Pie is a traditional English dish that harks back to the 1700s when potatoes came to be used widely amongst the poor who lived in cottages in U.K.  Inexpensive, affordable and nourishing, it's easy to understand why Cottage Pie was perhaps so popular.
This traditional dish, has thyme to flavour it but it's the sundried tomatoes, tamarind and pinch of cayenne pepper and the hints of mustard scattered amongst the bite sized potatoes which gives this dish the punch.
Cottage Pie is vegan.
What to do next
Tag me on @ethiveganquantum on Instagram to show me what you've made and let me know you're happy for me to share.
My recipes are featured in vegan speciality publications: Nourished, Vegan Life, Plant Based and Vegan, Food and Living.
Order my first self-published book, "Essence: The Beginner's Guide to Veganism" part of the three-part Circle of Food series. My second book "Presence: The Ascending Vegan" – which explores how to maintain a vegan practice is out in 2027 – I have compiled all the chapters including recipes.
Going strong since 2013.
Love.
Edward x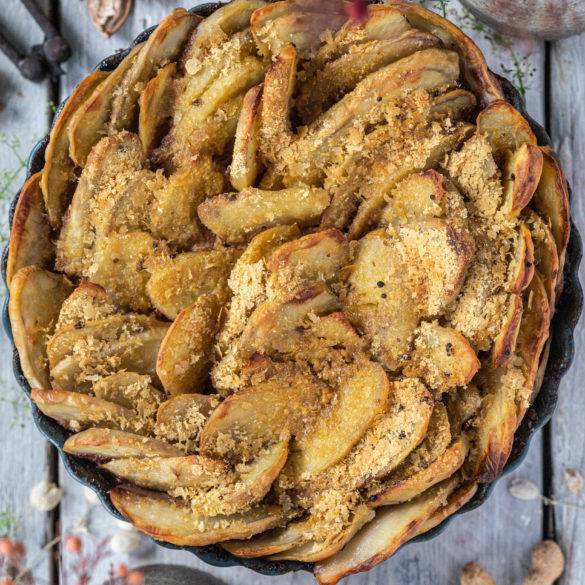 Ingredients
150g walnuts

150g peanuts

300ml filtered water

30g sundried tomatoes

175ml red wine

2tbs olive oil

1 onion

1 carrot, chopped

1 celery stick, chopped

2 garlic cloves, crushed

leaves of few sprigs of thyme

2 bay leaves

1tbs tomato puree

1tbs tamarind sauce

pinch cayenne pepper

Season to taste

For topping

1kg potatoes, peeled

1tsp wholegrain mustard

40g olive oil

Pinch of salt

10g nutritional yeast
Instructions
Soak the sundried tomatoes in water for at least 30 minutes and set to one side.
Pre-heat the oven to 180 degrees Celsius or a convection oven to 160 degrees Celsius.
Sauté the onion in olive oil until translucent. Add in the garlic, and cook over a medium heat for a couple of minutes.  Add in the white wine and bay leaves and cook under a low heat for about 10 minutes.
In a blender blend together the tomatoes and water to form a stock. Pour into the white wine mixture.  Continuing cooking for a couple of minutes. Switch off the heat
Add in the tamarind, puree, thyme and pinch of cayenne pepper. Stir.
In a chopper, chop the walnuts and peanuts to a small crunchy consistency. Swirl into the white wine mixture.
Transfer the filling to an oven proof dish (9-inch). Lay it on the base of the dish.
Peel and thinly slice the potatoes and place into a saucepan of fresh water. Bring to the boil and simmer for about 5 minutes. Drain and set to one side in. bowl.
In a separate mixing bowl, use a fork to mix together the oil, mustard and salt to form a dressing
Swirl the mustard dressing into the potatoes until covered.
Layer the potatoes on top of the walnut/peanut mixture. Drizzle over any of the remaining mustard dressing.
Cover with aluminium foil and bake in the oven for 40 minutes.
Remove from heat. Sprinkle on the nutritional yeast, remove the foil and bake for a further 10 minutes.
Serve warm.