Spicy fragrant succulent Vegan Jerk Chicken with thyme, rosemary, allspice, cinnamon, nutmeg, cloves and citrus lime.
Loot your booty. And, thrive as you get your fire on.
This dish will splurge any belief that vegan food can't be this intoxicating.
Make this:
When you've got the hunger pangs. And, feeling life can't get better. You're ready to tuck into something hot and scrumptious
When your mates drop in for a last-minute nightcap. You know you're in for a treat
When your cheeky niece, Ella won't give you peace. You need something to distract her even for a few minutes. And, there she has gone…
Vegan Jerk Chicken was inspired when reminiscencing about visiting those rustic Jamaican outlets just behind Brixton tube stations.
This vegan chicken is paleo and Jamaican cuisine too.
What equipment to use
For this recipe, I suggest:
Grinder
Air fryer
What to do next
Tag me on @ethiveganquantum on Instagram to show me what you've made and let me know you're happy for me to share.
My recipes are featured in vegan speciality publications: Nourished, Vegan Life, Plant Based and Vegan, Food and Living.
Order my first self-published book, "Essence: The Beginner's Guide to Veganism" part of the three-part Circle of Food series. My second book "Presence: The Ascending Vegan" – which explores how to maintain a vegan practice is out in 2027 – I have compiled all the chapters including recipes.
Going strong since 2013.
Love.
Edward x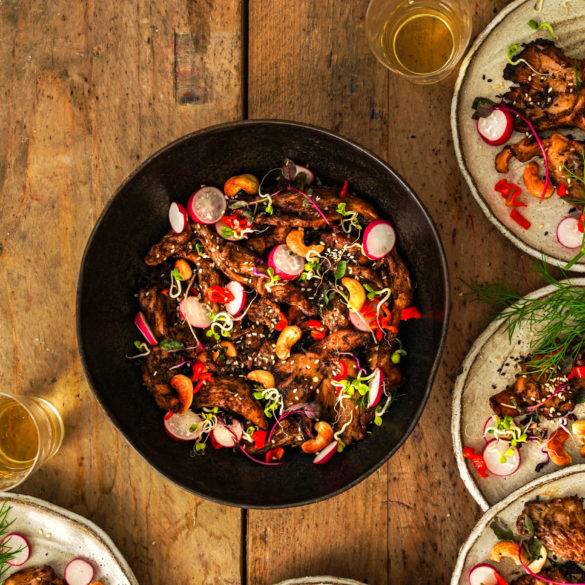 Ingredients
600g oyster mushrooms

Marinade

1tbs thyme

1tbs rosemary

1tsp allspice

1tsp cinnamon

½ tsp nutmeg

6 cloves of India

1tsp unrefined cane sugar

1tsp smoked paprika powder

1tsp ginger powder

1tsp garlic powder

1tsp onion powder

½ tsp salt

1 lime, juice

8tbs olive oil

1 Scotch bonnet, deseeded (optional)

Garnishing

Scallions

Radishes
Instructions
Place the thyme and rosemary with the oil in a high-speed blender. If you are feeling brave, toss in the Scotch bonnet. Whizz until fine. Transfer to a large mixing bowl.
Grind the allspice cinnamon, nutmeg and cloves in a grinder until fine. Toss into the mixing bowl with the remaining ingredients. Combine well.
Break the oyster mushrooms into small florets and use a spatula to swirl the marinade round – ensure all the florets are covered with the marinade.
If you are using an air-fryer, place at 180 degrees Celsius for about 6 minutes, batches at a time. Alternatively, you can bake with aluminium foil on parchment laid baking tray in a pre-heated oven at 180 degrees Celsius or if a convection oven at 160 degrees for 15 minutes.
Serve immediately when hot and piping. Garnish with scallions and radishes.