Herbed earthy butternut, potato, swede and carrot filling enfolded in a cassava chickpea and buckwheat pastry; Vegan Cornish Pasty.
Nab something wholesome and pillowy round your tongue. And, welcome it in.
This dish will bedazzle any belief vegan food can't be nourishing
Make this:
When you're craving for a classical British dish – that'll have you salivating for more as you take bite after bite
When packed sandwich lunches have lost their lustre. You want something that's hearty and keep you going as you slog into your post afternoon work out
When you've just hiked at least 3 kilometres. Now, it is time for wholesome dish that packs its punches. You need to get your energy back
Vegan Cornish Pasty was inspired when visiting a friend's farm in Cornwall. Reminiscing how it would have been lovely to have a solid gluten-free pasty, vegan too. At the time, I hadn't the tool kit or knowledge gained with recipe testing to come up with a good shortcrust pastry to house the pasty, Move forward to the present – the pastry for this pasty – is my version. Hope you like it.
I use herbs – thyme, rosemary, oregano and marjoram – for me, they represent the quintessential British herbs that enhance the flavour of root vegetables used in this dish.
Cornish pasties are a traditional semi-circular wrapped dumplings and a national British dish.
These Cornish pasties are vegan and gluten-free.
What equipment to use
For this recipe, I suggest:
High speed blender
Oven
What to do next
Tag me on @ethiveganquantum on Instagram to show me what you've made and let me know you're happy for me to share.
My recipes are featured in vegan speciality publications: Nourished, Vegan Life, Plant Based and Vegan, Food and Living.
Order my first self-published book, "Essence: The Beginner's Guide to Veganism" part of the three-part Circle of Food series. My second book "Presence: The Ascending Vegan" – which explores how to maintain a vegan practice is out in 2027 – I have compiled all the chapters including recipes.
Going strong since 2013.
Love.
Edward x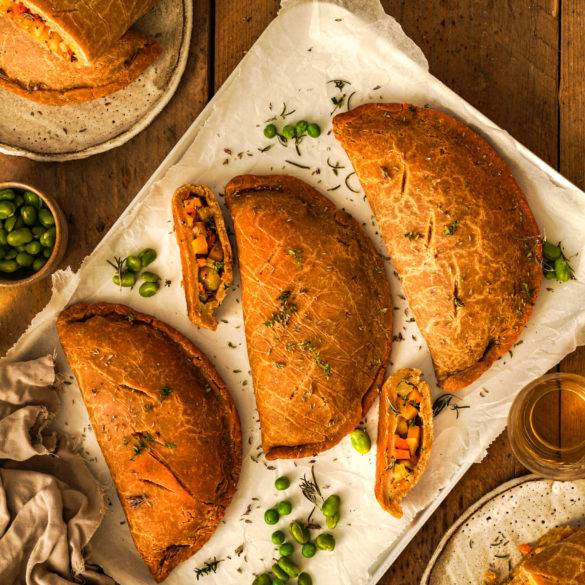 Ingredients
Pastry

200g chick pea flour

150g buckwheat groats

100g glutenous (sweet) white rice flour

150g cassava flour

50g flaxseeds

2tsp xanthan gum

200g vegan butter, cold

220ml water

½ lemon juice

½ tsp salt

Filling

1 onion

200g butternut squash

200g potatoes (waxy, if possible – to retain shape)

200g swede

200g carrots

50g vegan butter

Herbs

1tbs thyme

1tbs rosemary

1tsp oregano

1tsp marjoram
Instructions
In a high-speed food processor, grind the buckwheat groats, flaxseeds and salt until fine. Transfer to a large mixing bowl. Toss in the chick pea and cassava and rice flours and xanthan gum. Combine well.
Cut the butter into small cubes and toss into the mixing bowl. Use your hands to form crumbs.
Pour in the lemon juice and boiling water. Knead into a dough. Cover and set aside for 30 minutes.
To form the filling melt the butter in a wok. Switch off the heat.
Dice the root vegetables. Toss into the wok with the herbs.
Preheat the oven to 180 degrees Celsius or if a convection oven to 160 degrees Celsius.
Break the dough and roll between two sheets of parchment paper. Roll to a thin circle.  Grab the base of a 8-inch flan dish and circle and cut round the dough. Transfer a large baking tray lined with parchment paper. Repeat until completed.
Use a teaspoon to place the filling into the centre of the cut-out dough. Have a separate bowl filled with filtered water and dip your finger within and line the water round the edge of the dough. Wrap the dough round. Repeat until completed.
Use a knife and score the pasties thrice – to help allow any excess air out.
Place the pasty onto a baking tray lined with parchment paper. Cover with aluminium foil and cover baked in the oven for 50 minutes.
Serve warm freshly baked or at room temperature.