Firm nutty Maftoul with tangy herbal Middle-Eastern zaatar in a sweet vinegar dressing topped with pomegranate, pumpkin seeds and freshly chopped mint; Palestinian Pomegranate Maftoul Salad.
Indulge in a buttery exotic appetizer as you descend into pure heaven. And, cave in.
This dish will tear your belief that vegan food can't be tasty.
Make this:
When it's blazing outside and you want something light and a little exotic yet nutritious too
When you're yearning for a Middle-Eastern evening and want a mix of dishes
When you've got a birthday party organised and want something a little special to wow your guests.
Palestinian Pomegranate Pumpkin Seed Maftoul Salad was inspired by noshing in Lebanese restaurants in the Edgware quarter of London's finest as the smell of hookah came wafting over.
Maftoul is a Palestinian grain, a giant couscous, made from cracked wheat and bulgur flour. It has a sophisticated nutty and chewy flavour to it. Unlike, couscous, it is however more forgiving, because even with a little too much broth or water, it retains its firm texture. Hand-rolled still today by mammas, it is dried under the blistering Palestinian sun, giving its pearl-sized golden colour.
Plump ruby jewelled succulent seeds, it is easy to understand why Pomegranate is otherwise known as the forbidden fruit that Eve enticed Adam… Native to Persia, Pomegranate's has been cultivated in the Middle East, Asia and Mediterranean seasoning between September to November.
Pumpkin seeds are high in zinc, perfect for promoting that sperm count into action. Sprinkled over salads, they provide a crunchy contrast.
If you're wondering about where to get your Maftoul, Maftoul can be sourced from Phoenicia Mediterranean Food Hall in quaint Kentish Town in London.
Palestinian Pomegranate Pumpkin Seed Maftoul Salad is vegan.
What to do next
Tag me on @ethiveganquantum on Instagram to show me what you've made and let me know you're happy for me to share.
My recipes are featured in vegan speciality publications: Nourished, Vegan Life, Plant Based and Vegan, Food and Living.
Order my first self-published book, "Essence: The Beginner's Guide to Veganism" part of the three-part Circle of Food series. My second book "Presence: The Ascending Vegan" – which explores how to maintain a vegan practice is out in 2027 – I have compiled all the chapters including recipes.
Going strong since 2013.
Love.
Edward x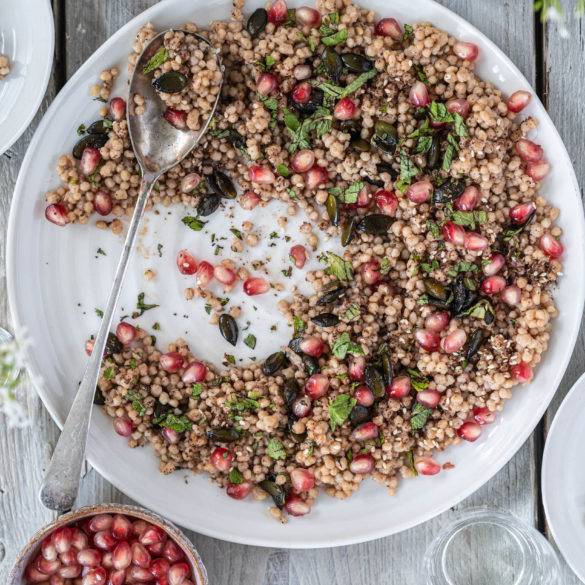 Ingredients
250g Maftoul

50g pumpkin seeds

1 pomegranate, deseeded

1tbs zaatar

1tbs balsamic vinegar

3tbs olive oil

1tbs apple cider vinegar

Few sprigs of mint, chopped
Instructions
Preheat oven to 180 degrees Celsius or if convection oven to 160 degrees Celsius.
Place the pumpkin seeds in 2 tablespoons of olive oil and roast for 15 minutes. Set aside.
Place the Maftoul in a large sauce pan full of boiling water. Cook for about 15 minutes. Drain and set aside in a large mixing bowl.
Make the dressing by mixing together the remaining oil, with the vinegars. Stir into the Maftoul.
When ready to serve, assemble the salad, by stirring in the zaatar, mint, pomegranate and pumpkin seeds. Can be served hot or at room temperature.